Logged SCUBA Dive #335
Secret Location: 4f 66 66 20 74 68 65 20 67 61 74 65 73 20 6f 66 20 4d 61 72 2c 20 61 72 6f 75 6e 64 20 74 68 72 65 65 20 6c 6f 6c 6c 69 70 6f 70 73 2e 20, Palos Verdes
Solo Diving/ SoCal Buddy Diving
In With: 3000 psi
Out With: 200 psi
Max depth: 40 feet
Waves: Pretty flat with minor swells
Visibility: 10 to 15 feet
Temperature: 59 degrees
Total Bottom Time: About 35 minutes
Well, I never made it to the Kern River this weekend for various reasons.
Instructor John and I dove off the mighty zodiac to try our hand on one of the last remaining nights of lobster season.
We anchored in 40 feet of water, several hundred yards away from another apparent dive boat.
I descended and went towards shore, hoping to find seven lobsters in 30 or 35 feet of water; at least that's where they seemed to be when I dove Old Marineland last Sunday.
I pinned a few "monsters" until my gauge told me that they still have another few seasons to grow; they were released unharmed.
I thought that I was probably going to get skunked as I turned around at 25 feet, with 1500 psi left in my tank.
I came across a trench, covered with kelp that had a few obviously short bugs crawling around in it.
I spotted a bug that was hopefully legal and pinned it.
Out of the corner of my eye, I saw a huge lobster leg; I looked up and saw a four pound giant bug!
I dropped what I had in my hand, swam over and shoved my palm against it's carapace; I couldn't grab around it, so I dropped my light and put the lobster into a choke hold with my other arm.
No need to measure that one!
After a few minutes worth of a violent death-defying struggle, I successfully shoved the bug into my lobster liberation bag; I was at 35 feet.
Running low on air, I continued on, back to the boat.
I grabbed and pinned another legal, but much smaller lobster before surfacing to get my bearings on the boat's location.
The kelp was extremely thick, so I made it a point to go straight to the boat while swimming under the kelp death trap; I was running critically low on air.
Surfacing 10 yards away from the boat, I did a short bitch crawl over the kelp and back in to the mighty zodiac.
John surfaced a few minutes later with two bugs.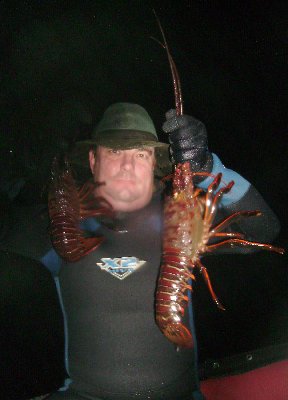 My catch for the night.
We made a smooth and uneventful ride back to King Harbor.
We are planning another trip out tomorrow, but Instructor John will be unavailable Tuesday night.