Logged SCUBA Dive #332
Old Marineland, aka Terranea Resort
Dove With Not So New Chris
In With: 2800 psi
Out With: 1400 psi
Max depth: 42 feet
Waves: Choppy at the shore, but very manageable
Visibility: 5 to 10 feet
Temperature: 57 degrees
Total Bottom Time: About 40 minutes
I was going to call today, based on the dive report from yesterday, but waking up at 6 AM, I thought, "I have nothing better to do than to check the conditions out, at least."
By the way, HAPPY BIRTHDAY MAX BOTTOMTIME!
Max has shown how diving can make a 50 year old person look as though he is only 49!
Just kidding!
He looks a lot younger!
Anyway, from the coast it looked pretty calm, so Chris and I went to the main gate of Terranea resort.
The Security Guard scoped us out and gave us the standard lecture, "You guys can go down and dive, but have to go straight down to the beach… you can't drive around the property or walk around the buildings and any trash you make, you have to take out with you."
We agreed.
Turn out was extremely low – Me, Not So New Chris, Todd and "Moderate Bob."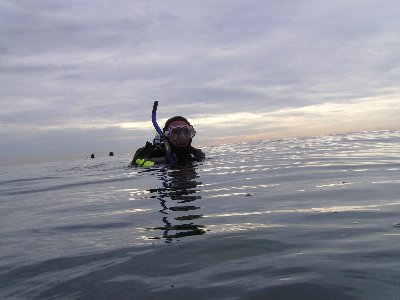 Chris and I went off the cove and swam towards 120 reef and submerged.
The vis was actually a lot better than I had expected – five to 10 feet…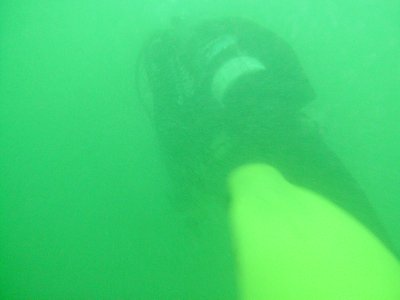 My camera was having problems – it froze and stuck on certain settings that made the menu loop.
After fixing the stuck button with my knife, I started to have some kind of weird problem where my camera kept freezing – that was the bad news.
The good news – there wasn't anything spectacular to take a picture of.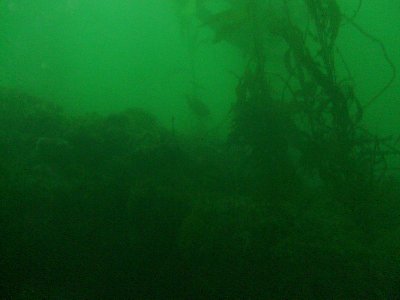 My camera stopped working after this great looking picture.
I probably need to lubricate the camera housing and change the batteries.
Chris and I toured 120 reef, spotting a few short lobsters, Sunstars, Sheephead and Garibaldi.
We never lost one another and it was an enjoyable and uneventful dive; we headed in after 40 minutes to an easy exit.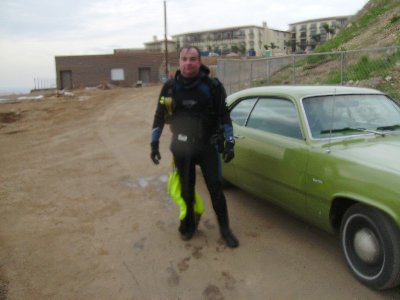 We had managed to park down by the pool at the sea side.
Debriefing was purely of the liquid kind and lasted a couple of hours – there weren't enough people to warrant breaking out the grill.