Logged SCUBA Dive #329
Secret Location: 53 6f 75 74 68 20 6f 66 20 74 68 65 20 67 61 74 65 73 20 6f 66 20 4d 61 72 2c 20 6f 6e 65 20 63 6f 76 65 20 6f 76 65 72 20 66 72 6f 6d 20 74 68 65 20 6c 69 67 68 74 68 6f 75 73 65 2e, Palos Verdes
Solo Diving/SoCal Buddy Diving
In With: 3000 psi
Out With: 400 psi
Max depth: 60 feet
Waves: Minor swells, but pretty darn flat
Visibility: 15 feet+
Temperature: 57 degrees
Total Bottom Time: About 35 minutes
Instructor John and (Newly Certified) Instructor Ron and I took the faithful zodiac out tonight to liberate more lobsters.
We were going to try a deep spot and then, maybe shallower.
Hoop netters were already at one of our secret spots along the edge of the canyon – hoop netting in the exact location.
We decided to try Palos Verdes.
On the way over, we also noticed another hoop netter on the Palawan wreck; are the lobsters deep?
We anchored in 50 feet of water; I was the first to submerge.
Lobsters littered the floor – actually I should state that micro-lobsters littered the floor.
I grabbed and pinned what I thought was a legal bug, but upon measuring it, it was a half inch short; I released it unharmed.
Vis was good at the bottom; sort of murky at the top.
There was a lot of interesting reef structure, ling cod and various other sea life; but, unfortunately no legal bugs.
I was the first one back to the boat; John followed with one legal lobster.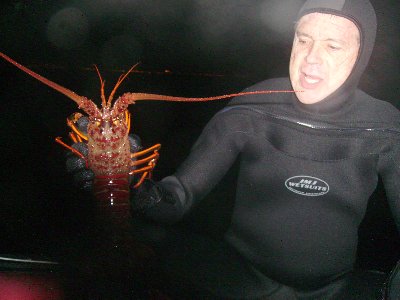 Instructor Ron followed with one legal bug.
We moved the boat further North for the second dive of the night.
Comments Off

on Operation: Lobster Liberation Part 1