Logged SCUBA Dive #323
Old Marineland (aka Terranea Resort, Long Point)
Dove With Not So New Chris
In With: 2900 psi
Out With: 1200 psi
Max depth: 35 feet
Waves: Small swells, no sweat
Visibility: Anywhere from 0 to 15 feet in some places
Temperature: Cool (Maybe 55 degrees)
Total Bottom Time: About 45 minutes
Arriving promptly at 8 AM, the regular divers were already gearing up in the parking lot; word had it that, "Yesterday was 10 foot vis and it looks better today."
I geared up and paired up with Not So New Chris.
At the water's edge I realized that I forgot my hood, but being macho and too lazy to walk back up the hill, I continued on.
Entry off The Cove was easy and uneventful.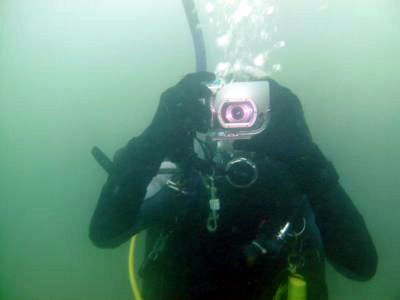 Vis was OK in some places – 15 feet at best, but 0 feet in some places; visibility was almost random as we went from reef to reef.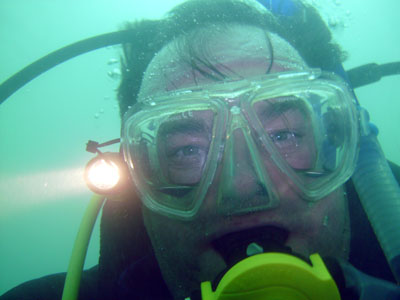 A self portrait – me without my hood on; notice how the cold doesn't even phase me because of my machismo?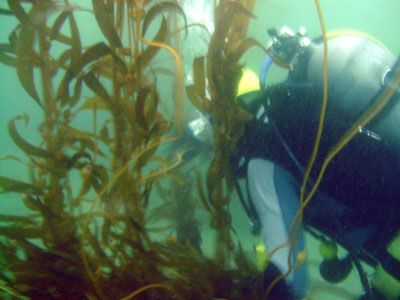 We weaved through the kelp forest and continued to explore the area South of 120 reef.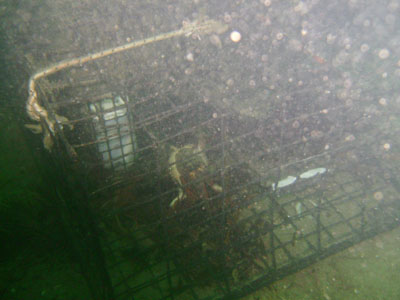 We came across a commercial lobster trap.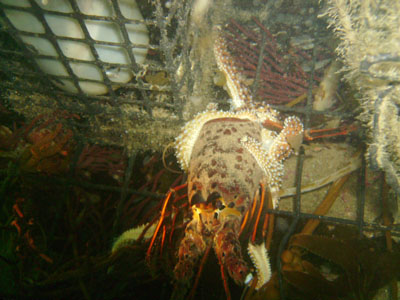 Inside the trap, a starfish has consumed the tail of a rotting, dead lobster; it doesn't look like this trap has been pulled for a long time.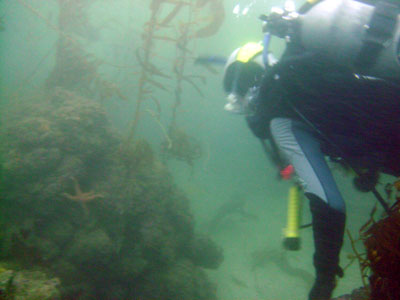 Chris and I did a little reconnaissance work looking for lobsters in the shallows.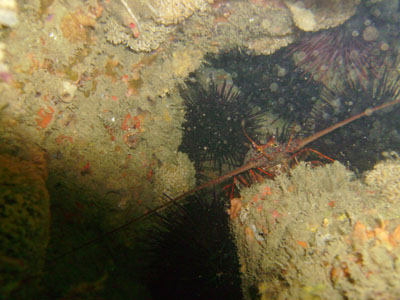 We spotted a lobster!
Later, Reverend Al said that he saw five lobsters off of 120 reef.
It looks like trying for lobsters shallower might pay off.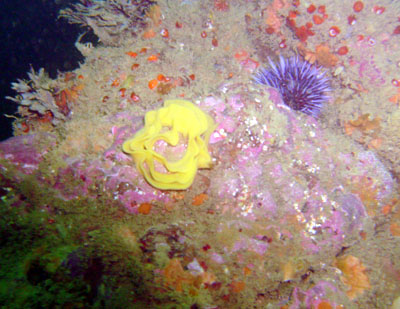 I came across some sort of swirly ocean life – it looked like a ribbon that had curled up, but it was some sort of sea life.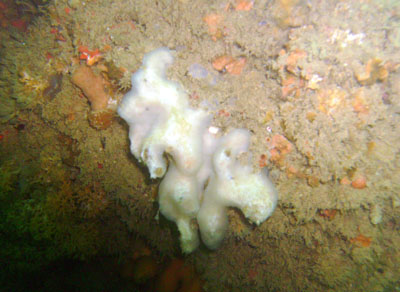 A sea blob – I think?
Chris and I lost each other swimming through a patch of crappy vis – we met at the surface a few minutes later.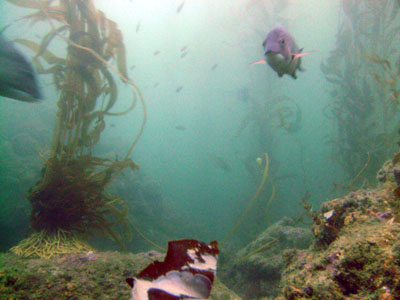 A patch of good visibility shows off the sea life at 120 reef.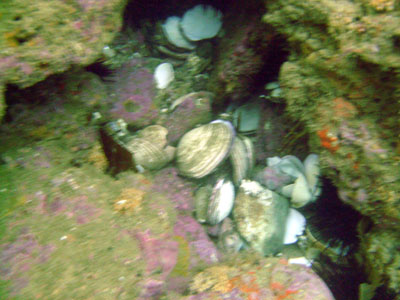 Clam shells outside a hole – the sign of an octopus's dwelling, but no octopus.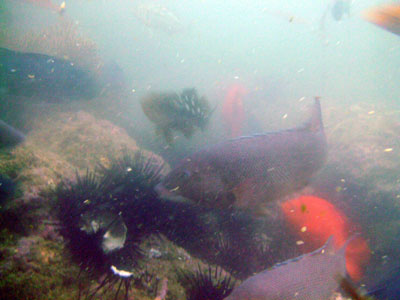 A sea urchin that is broken open causes a feeding frenzy.
That was the last picture that my camera took before "freezing" in the on position; it wouldn't turn off, it wouldn't take pictures and wouldn't change settings.
For the first time, I realized that Microsoft must have programmed my camera's operating system.
We headed back towards the cove after exploring the "finger" off of Pigeon Shit Cave and almost getting swept ashore by the waves that pound that part of the beach.
Our exit was easy and uneventful and the walk up the hill was a pleasure as always.
After carefully taking my camera out of the water proof case, I replaced the batteries, hit control + alt + delete and rebooted it.
Luckily, no "blue screen of death" and camera functionality resumed normally.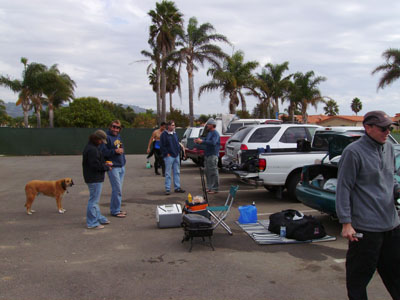 Debriefing started in traditional fashion; I got a spot on Chris' outdoor stove.
Spicy links, steak and chicken fajitas were on today's menu.
A guy pulled up in a Harley Davidson and recognized me as "Psycho Solo Diver;" he is a local diver by the name of John that stumbled across this blog several weeks ago and had been meaning to stop by.
I guess people actually read this blog?
Debriefing lasted until about noon.
I'm not sure about coming next weekend – the Divevet's/Dive N Surf Annual Underwater Christmas Tree Decorating Event is next Saturday, along with another party I have to attend; I may be too "out of it" by Sunday.
If you're local and a diver, get your ass down to Vet's Park next Saturday.