Logged SCUBA Dive #319
Secret Location: 4f 66 66 20 61 6e 64 20 61 72 6f 75 6e 64 20 74 68 65 20 77 72 65 63 6b 20 63 61 6c 6c 65 64 20 74 68 65 20 41 76 61 6c 6f 6e, Palos Verdes, CA
Solo Diving/SoCal Buddy Diving
In With: 2900 psi
Out With: 600 psi
Max depth: 70 feet
Waves: Pretty flat
Visibility: 15-20 feet
Temperature: Maybe 60 degrees or so
Total Bottom Time: About 25 minutes minutes
After a 30 minute ride to our next spot, I submerged, determined to get six more lobsters.
This secret spot is actually a disintegrated ship wreck – there's a lot of structure for bugs to hide in.
I trolled the bottom near the anchor line while I debated whether to go shallower or deeper; since I planned for a 70 foot dive, I decided to go shallower.
I saw two antennas sticking out of some kelp… I grabbed for the kelp and my hand hit it along with the rotting steel plate that was hiding under it; the bug got away.
After trolling for a little bit more, I grabbed for a lobster hiding in a hole but only got the base of one of his antennas; they usually just break off, but this one didn't.
After looking further into the hole, the lobster had no place to go; he was backed all the way in.
With my other hand, I reached in, grabbed it's ass, pulled it out and bagged it.
I pinned and bagged another legal one before heading back to the boat.
I surfaced and spotted a boat 100 yards away.
I thought, "Shit, I submerged on the wreck at 70 feet and ascended from the wreck at 70 feet, how did the boat get all the was over there?"
I turned my head to scout my back side and saw the Island Diver 15 yards away.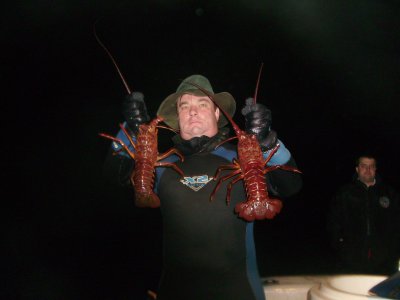 My two bugs from this dive.
Dan and Rick spent the dive retrieving an anchor, Mike C came up with two bugs.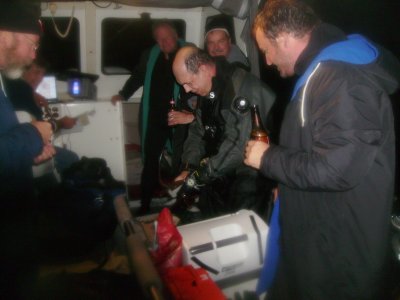 Mirek was the last one back with six bugs.
The traditional debriefing started on the boat – beer and kettle corn.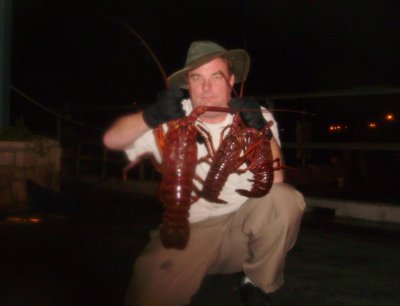 I pose with my stash of three bugs for the night.
The boat total for eight divers was 13 – this is a tough season.
Debriefing continued in the parking lot until midnight.