Logged SCUBA Dive #307
SECRET LOCATION: 41 74 20 74 68 65 20 67 61 74 65 73 20 6f 66 20 6d 61 72 2c 20 4e 6f 72 74 68 20 6f 66 20 74 68 65 20 6c 6f 6c 69 70 6f 70 20 74 72 65 65 2e, Palos Verdes, CA
Solo Diving, SoCal Buddy Diving
In With: 3000 psi
Out With: 500 psi
Max depth: 35 feet
Waves: Three foot swells, sort of challenging
Visibility: 15 to 20 feet
Water Temperature: 65 degrees
Total Bottom Time: About 45 minutes
The next dive we went shallower, where we should have started to begin with!
I again was the first overboard and checked the anchor, which rested at 30 feet; nothing this time.
The kelp was thick, but not as thick as the place I went to on Opening Night.
I looked under the low lying kelp and eel grass and pinned my first legal lobster of the dive about 10 minutes in.
There are plenty of lobsters around here in the 25 to 30 foot range, but they would flee as soon as my light touched them.
I had an idea to turn my light that is attached to my mask off; that way, I would only have one light that I could easily control.
I could turn it to the side and not spook the next lobster while keeping a "dark eye" on it while I approached.
Within five minutes, I pinned my next one.
I surfaced to peak a few times; I wasn't planning another marathon swim back on this dive, although I didn't plan the last one.
I was the first back on the boat; the rest of the group got delayed because some divers were busy throwing up… Ah! Lobster bait!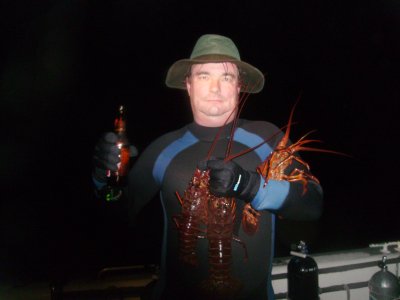 I am so macho! I can hold all of my lobsters with one arm and a beer in the other!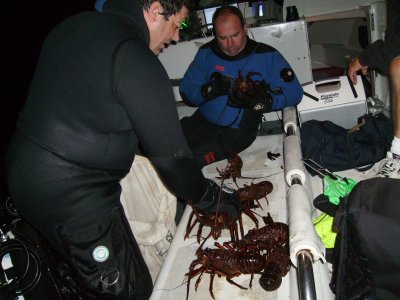 Bob cleaned up with some pretty big bugs and limited for the night.
He overshot the boat on his way back, and caught three big ones under the kelp in 30 feet of water, within five minutes.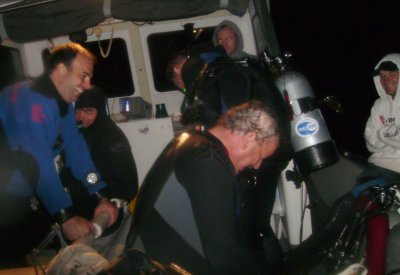 Dan took some newbies out and came back with an empty bag; everyone laughed.
Total bugs caught on this trip was 22, amongst eight divers.
The boat ride back was still rough; some drank beer, others threw up, supposedly to make room for more beer.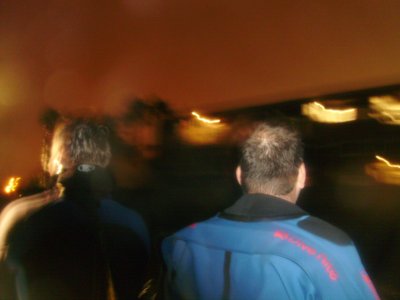 As we passed by the Portofino Inn, a naked woman, standing on her balcony, welcomed us back to the harbor.
She was sort of ugly, but after a drinking a few beers on the open sea, she looked OK to me.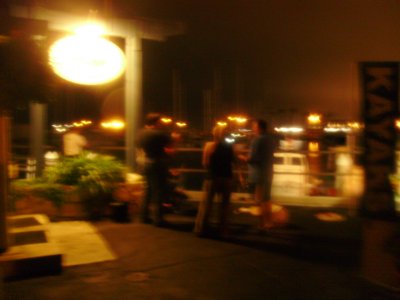 Traditional debriefing continued in the parking lot until a little after midnight.
I have some ideas about optimizing my catch in this area; I'm going to test it on my next outing… stay tuned!
Comments Off

on Dive Number Two On The Island Diver For Lobsters!