Logged SCUBA Dive #304
SECRET LOCATION: 54 68 65 20 67 61 74 65 73 20 6f 66 20 6d 61 72 2c 20 6e 65 61 72 20 74 68 65 20 74 68 72 65 65 20 63 68 69 6d 6e 65 79 73 – Palos Verdes
Solo Diving/SoCal Buddy Diving
In With: 2900 psi
Out With: 400 psi
Max depth: 35 feet
Waves: Minor chop
Visibility: 15 to 20 feet
Water Temperature: 67 degrees
Total Bottom Time: 35 minutes
Notable Event: It's Opening Night of Lobster Season!
I met Instructor John and Jim at King Harbor around 10:30 PM.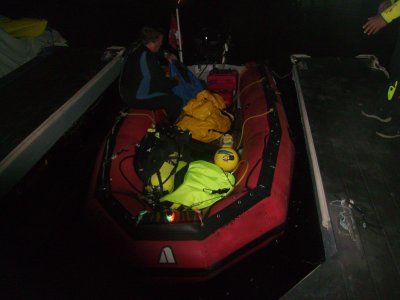 We geared up and were off within 30 minutes for the ride to the secret location.
In the harbor, we almost got hit by some asshole who nearly ran us over.
John maneuvered to avoid a collision and yelled, "Hey! Hey! Didn't you see us over here?"
The guy looked over and sped up, creating a wake in the "no wake" zone; I wish I could remember the name of that asshole's boat.
Instructor John said, "We don't dive the break wall on Opening Night because of assholes like that."
Many boats and shore divers were off the cliffs of Palos Verdes; lights were everywhere.
We jumped in at midnight; I fumbled with my gear, putting my BCD on in the water.
I noticed that my computer was no longer on my wrist; did I even put it on?
I submerged and touched bottom, but didn't see my computer, only a short lobster.
"OK, they're around, I probably just left it on the boat," I thought.
I continued my dive computerless, knowing it would be a shallow one; I would run out of air before running out of time.
This location has tons of kelp that I constantly had to cut and untangle; on this dive I probably cut more seaweed that the average sushi chef does in a year.
I spotted my first lobster, swam over and pinned… it started to flee backwards… and I grabbed his antennas.
It wiggled free, hitting me in the head as it escaped backwards; being macho I ignored the pain.
I approached another lobster shortly afterward; I pinned it, measured it and bagged it!
My first lobster of the 2008 season!
After another 5 minutes, my light waved past a huge six pound bug; I aimed my light to the side and swam forward to pounce on it….
I wasn't moving!
Fuck! I was caught in the kelp!
The bug fled.
I backed up and freed myself and continued my dive.
I tried to pin several more; they either were too short, or they fled too quickly.
I am either rusty in my lobster pinning, or the lobsters are getting smarter.
I made it back to the zodiac after a very short surface swim; Jim was already on board with three massive bugs.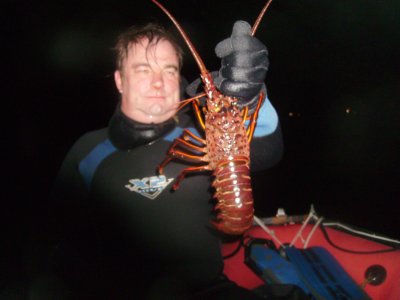 My first lobster of the season!
What a monster!
OK, where the hell is my computer?
It is not on the boat.
It must have really fallen off my arm when I put my BCD on!
Instructor John made it back to the boat and submerged to look for it; I geared back up and with 600 psi left, jumped over board.
OK, where's my light?
I just had it!
I looked below and saw a light; is that John?
No, I had dropped it; was this a jinxed dive or what?
I dove down, and retrieved my light, as John was ascending, holding my computer.
Phew!