Redondo Pier, Redondo Beach, California
Dove With TwinDuct
In With: 2900 psi
Out With: 600 psi
Max depth: 60 feet
Waves: Six feet surge and swells at the shoreline
Visibility: Three feet under Redondo Pier, 15+  feet at depth in the canyon.
Water Temperature: About 64 degrees
Total Bottom Time: 35 minutes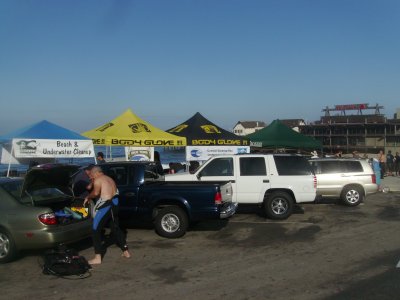 This is the annual "Heal The Bay" beach clean up; the pier was closed to fishermen so divers could pick up trash underneath.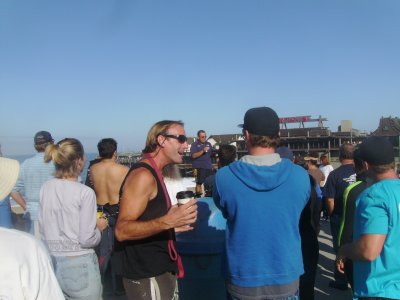 Tony, DM for Dive N Surf,  gives the pre-dive briefing; everyone listens carefully…
"The waves are up… if you can't lift the "trash" don't try and bring it ashore and only wave your hand if you need help…"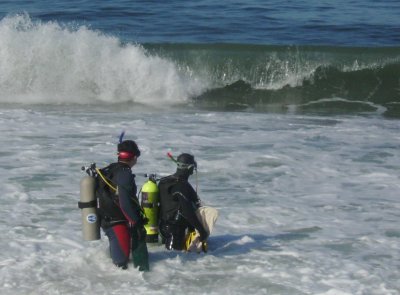 The waves posed a problem for inexperienced and non-macho divers.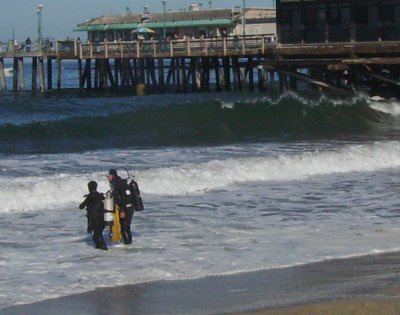 You had to time your entry and exit just right.
At the shoreline, I waited for my buddy TwinDuct to gear up as I watched the other divers enter…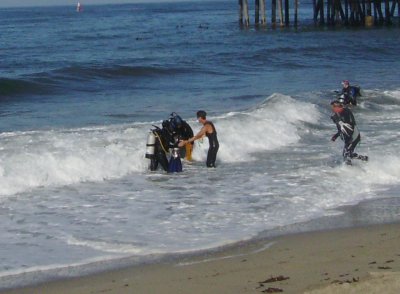 The Divemasters were kept busy…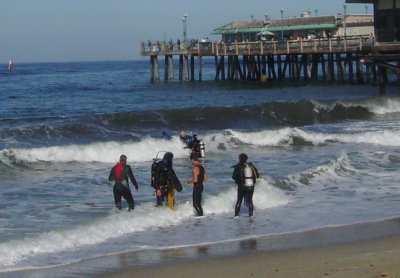 I did something that I hadn't done on a beach entry for quite a while – breathe off my regulator as I was entering the water and swimming through the surf zone.
TwinDuct and I made it out with no problems – experience and machismo pays off.
Also, I had my newly purchased "spring loaded" fin straps – they really paid off on this beach entry!
I did not have to fumble at all to put my fins on, and once on, they stayed on.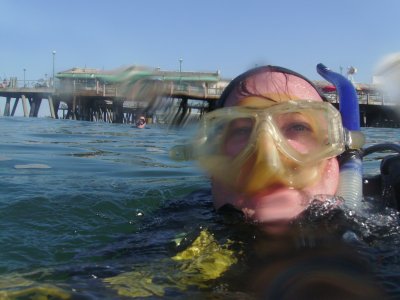 Me off of Redondo Pier, TwinDuct is in the background.
We descended in 20 feet of water at headed 330 degrees to the pier; I sort of got off course and had to peak – I missed it, we were West of the pier, heading into the Harbor.
I corrected course and we swam under the pier…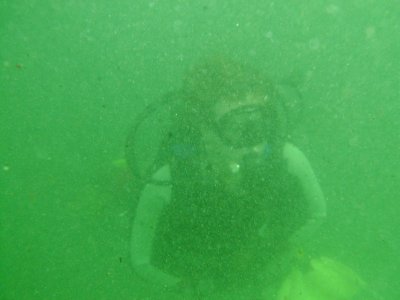 Visibility under the pier sucked!
I found a knife and a few fishing weights, but the "good stuff" I thought was already picked up.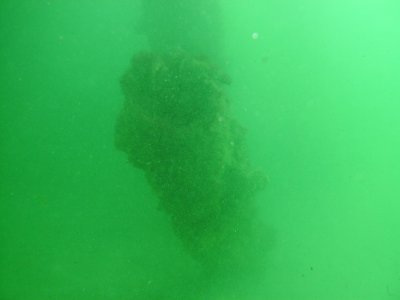 An old pier piling underneath the current pier?
We headed South and down the canyon.
There were so many rotting fish, shark and bat ray corpses off the canyon…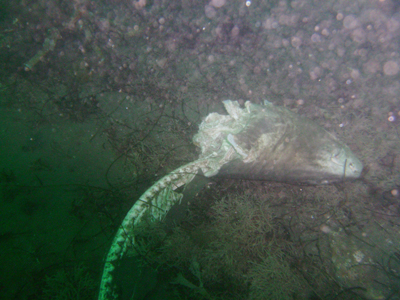 A rotting shark corpse… all that's left is the head.
I think these creatures got hooked by fishermen off the pier, escaped injured and swam down the shelf to die; their corpses rot and become fish (and lobster!) food.
I almost got my testicles pinched off by a spider crab; thankfully I defended myself using my cage fighting abilities.
At 800 psi we headed in and surfaced in 15 feet of water.
We made a skillful exit in the increasingly pounding waves.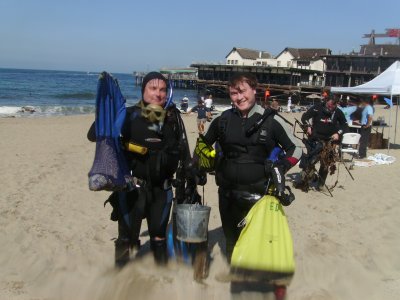 Me and TwinDuct pose with our stash of trash.
I found socks, a knife, beer bottles, plastic bags, coffee cup lids and an assortment of other plastic and paper crap.
TwinDuct found pretty much the same, plus a bucket.
We went back down to shore and watched the show…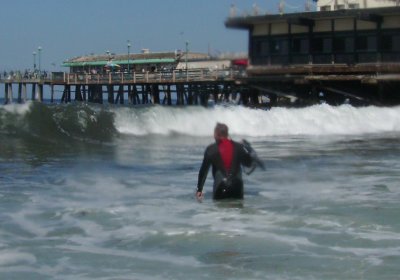 Dan from Divevets DMed the divers body surfing back to shore.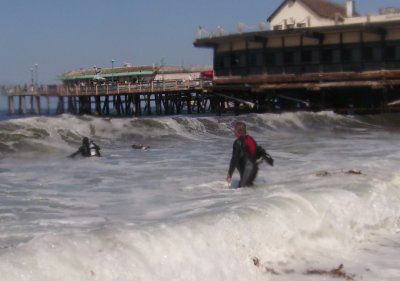 WAVE! WAVE! WAVE! Watch your back!.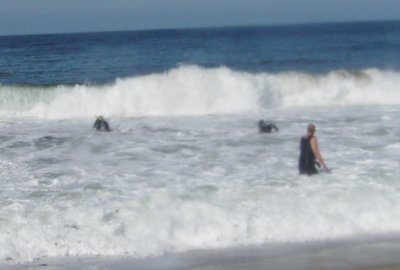 Surf's up dude!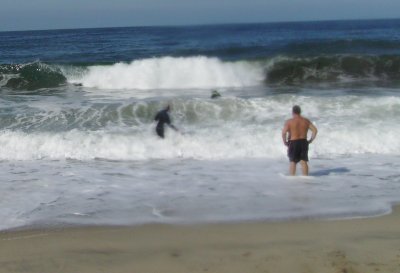 Why did they schedule an event like this when the surf was going to be so rough?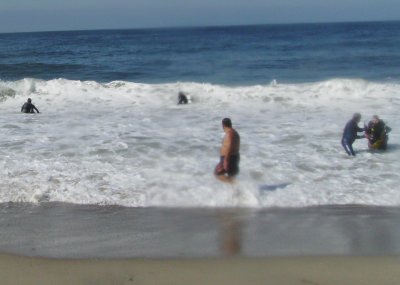 After watching the show, I saw many mistakes made by novice or inexperienced divers entering and exiting the surf.
My advise for entering rough water:
First, don't do it if you think you can't make it!
Never turn your back on the ocean!
I saw many divers turn their back on the ocean when they thought they were safe, only to get slammed by a huge wave when their back was turned.
Also, don't put air in your BCD!
You will float like a cork and get nailed riding a wave.
When a big wave approaches, dive underneath it – don't jump up thinking it will pass underneath you.
I've had bad experiences myself in the "surf zone" – read about it here.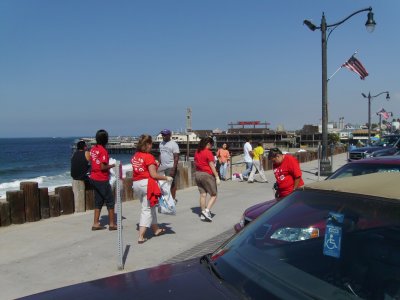 Red shirted non-divers cleaned the beach and surrounding areas.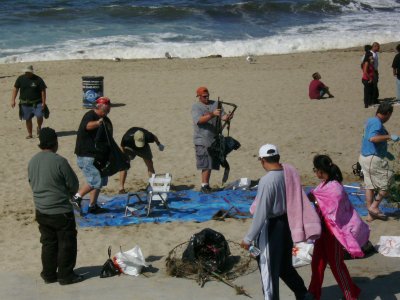 The underwater trash is sorted and logged; found on this clean-up – a crutch, a fishing hoop net, fishing reels, a dildo, a lot of knives, bottles, tons of plastic garbage, a used condom and an assortment of fishing weights, to name a few.
So now here comes the debriefing…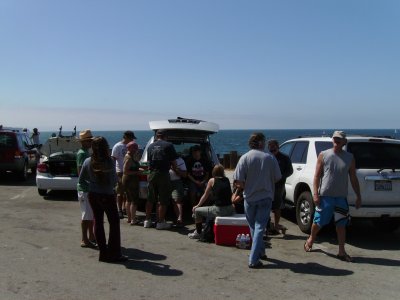 Partying in the parking lot is the Divevets' forte.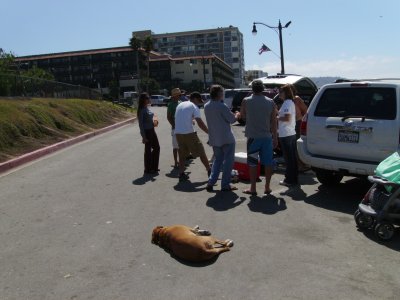 We exchanged diving stories and corrupted newly indoctrinated divers as Cyber The Attack Dog puts his ear to the ground, listening for approaching police cars.
Another great day of diving for public service!