Long Point (aka The Old Marineland), Palos Verdes, California
Dove With New Chris
In With: 3000 psi
Out With: 1800 psi
Max depth: 40 feet
Waves: Slight chop, a few pounders at the shoreline
Visibility: Four to eight feet, silty
Water Temperature: About 57 degrees
Total Bottom Time: About 20 minutes
Notable Event: How long does a diver have to be gone, before he is considered missing?
Today is not only the traditional dive and debrief, but a birthday celebration, too – TwinDuct and Hollywood share September 7th as a birth date.
Reverend Al, New Chris, Bob W. and I stood above the cliff wondering whether to call the dive; it looked really green.
Unfortunately, we couldn't really go anywhere else due to the scheduled party.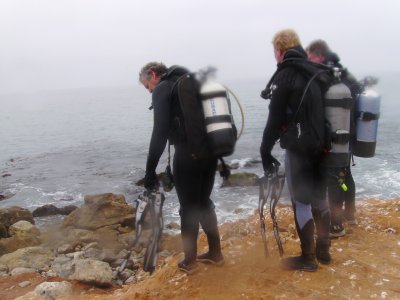 We geared up and walked to The Point; between calm lulls were sets of big, crashing waves.
Reverend Al, TwinDuct, Bob and Steve went off the Point; a few divers made some scary looking entrances into the water.
New Chris and I called the Point and went off the cove; I figured vis was going to be crappy, so why risk my life for that?
We entered the cove and met another diver who had fallen behind his group due to an equipment problem.
I asked if he wanted to dive with us, he agreed.
I turned to Chris for the signal to descend and then looked back; the other diver was nowhere to be seen but we saw and descended on his bubbles.
His bubbles were moving and I lost sight of them, so Chris and I ascended and waited for a few minutes.
"Well, I guess he's going solo, but I really wish he would have told us," I said.
Chris and I descended back down to 20 feet and headed for 120 reef.
We had agreed that if conditions really sucked, we would head in after 20 minutes.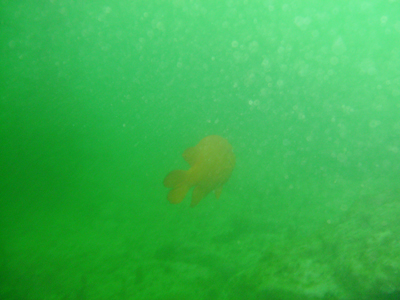 Visibility really sucked!
We slowly did a tour around the reef; I looked at my watch more than my air.
After 15 minutes had passed, I turned and started to head back.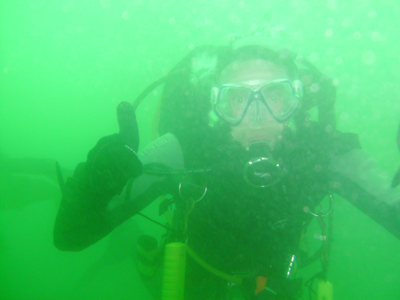 When the vis got down to almost nothing, we surfaced and swam in.
The waves were a little more fierce than before and I couldn't get one of my fins off, so I ended up crawling up the rocky beach.
I thought to myself, "It almost feels like I can walk with that fin on."
I looked back and saw my fin washing away; I grabbed it before the ocean gods could take the sacrifice.
After another macho walk back up the hill, my brother Paul, Dan and Hollywood from Divevets, were awaiting the start of the festivities.
We fired up the charcoal to have a real barbecue.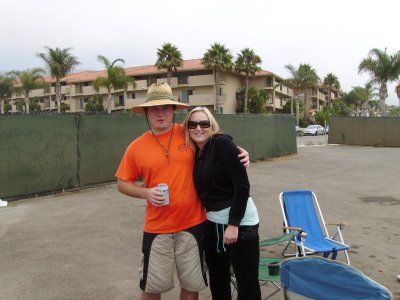 The birthday boy and girl – TwinDuct and Hollywood.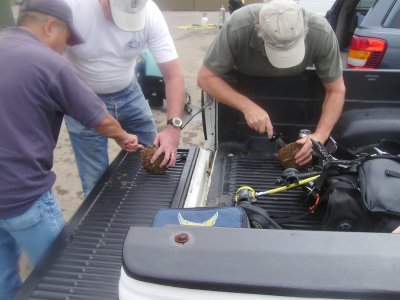 The first course was scallop sashimi.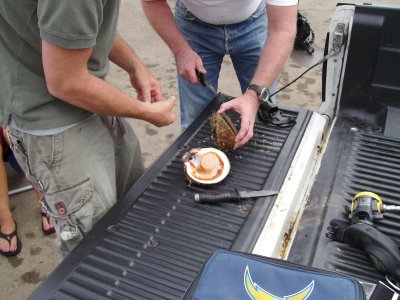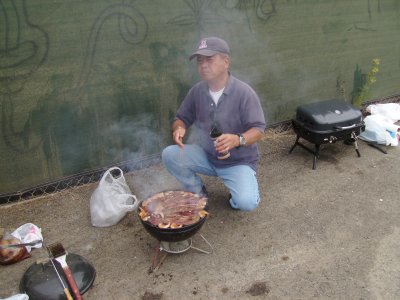 Instructor Ed takes over the grill.
On today's menu – South Korean food! Kim Chi, rice, raw onions, raw garlic, barbecued shrimp and marinated cross cut ribs.
I no longer bring North Korean food because nobody liked dirt soup, roasted rats or leaf and bark salad.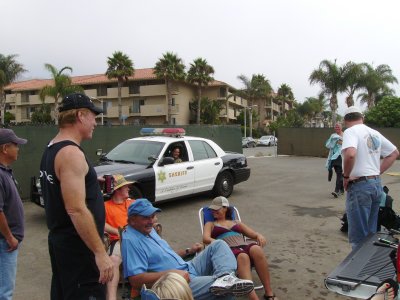 At the top of their lungs, someone yelled, "Oh crap, it's the cops!"
A really hot looking Deputy pulled in; a few of the divers offered to be arrested as long as she was the one who frisked them.
Last week, the Department of Fish and Game showed up, this week it was the Sheriff.
We offered her a beer, but she declined.
"You guys are amazing, have a nice day," the hot Deputy said; she backed up and drove away.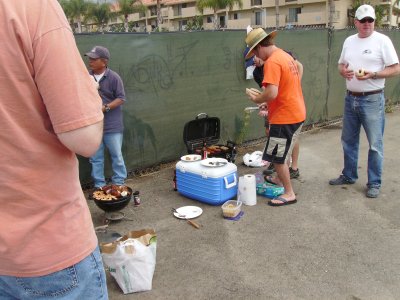 The first of the ribs came off the grill; they went fast.
The New Chris also grilled some marinated meat, bratwursts and garlic bread.
Nick and new diver Jill also showed up and brought more beer and pork tenderloins.
Jill also brought Vodka and Orange Juice and proceeded to get a few participants hammered on the hard stuff; Instructor Ed toasted Paul with straight shots.
Jill wants a nickname to fit in, so "Screw Diver" has been suggested.
Nick and Jill want me to give them a tour of the cinder blocks, traffic cones and trash that's off of Veteran's Park until Jill can be comfortable diving Long Point.
Maybe I'll take them on a night dive?
So, we had been out of the water for over an hour, maybe an hour and a half.
I asked New Chris, "Is that diver who was suppose to dive with us back yet?"
We looked around, he wasn't back.
Concerned, six people walked to the cliff to try and spot any sign of him.
Vis absolutely sucked, so why would anyone want to be out this long?
He is also a fairly new diver; I believe he has under 30 dives.
Also, after about an hour and a half, it is doubtful that he would have any air left if he was still underwater.
I started to imagine that maybe his sudden descent was a result of a health issue; maybe we should have made a better effort to find him?
Solo diving is fine; but the plan was to dive with us and his separation was very abrupt.
Dan from Divevets remarked, "Well, lets not wait too much longer, we need to call someone."
Bob W. and I walked to the other side of the cliff, but still saw no sign of him; we planned to send a couple guys down in snorkeling gear to try and find "the body" while we called the Coast Guard.
Just as I was walking back up to the fork in the path, the diver emerged from the trail's top switch back.
By the time we got cliff side, the diver was already walking up, but we didn't see him.
He left his bottom timer at home, had no idea how long he was under and apparently spent some time on the rocky beach before heading up.
What a relief!
The last thing I want to do is go looking for a dead body, especially of someone I know.
We begged him to communicate better on future dives.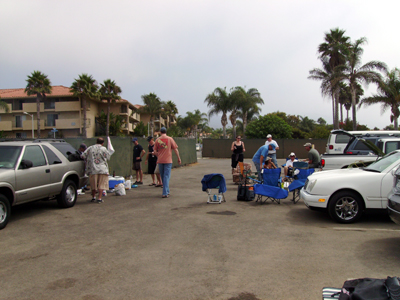 So now, the party continues!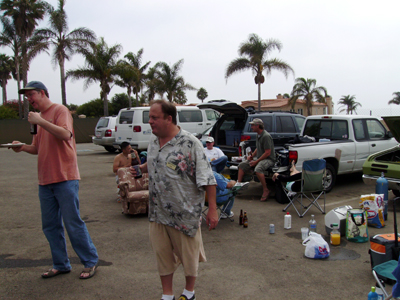 To make a tribute to the Old Marineland of The Pacific, my brother Paul wore his old name tag from 20+ years ago…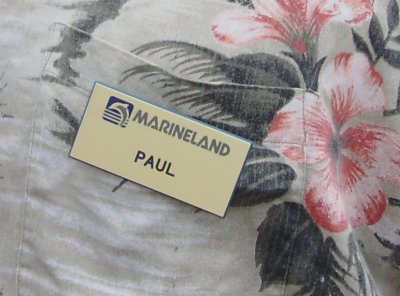 Yes, my brother and I both worked here when it was Marineland of the Pacific.
He was in "Food Service" pouring beer and sipping some to assure the quality; I was in "Merchendising" running the carnival games at the back of the park.
Basically, I took all the money away from the drunks my brother earlier served.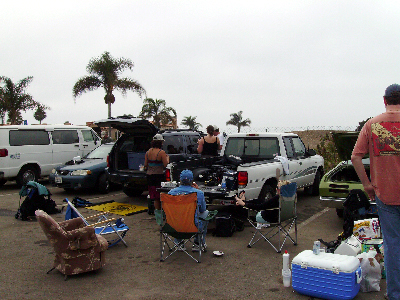 We have a blender, stove and now someone even brought an easy chair; let's see who can top what next week?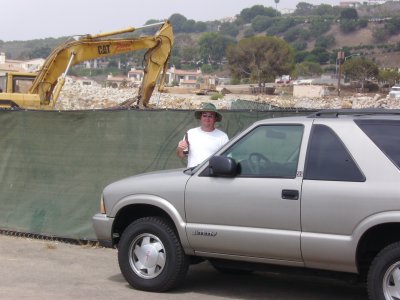 "Hey Paul, there's some sort of mysterious yellow fluid leaking from your truck!"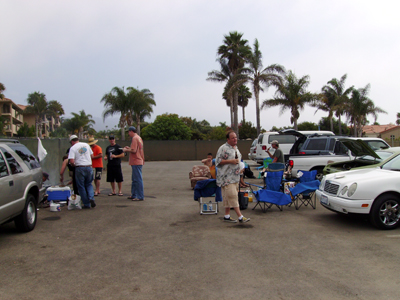 Ana, aka "Wrinkles," dove with Dennis G after a hiatus from the group; he's a very lucky man to be diving with such a hot chick.
Wrinkles however, left the party early to watch a football game; apparently, football is more important to her than hanging out with us.
The party started to die down around 1 PM; Dan left but the other Bob from Divevets showed up.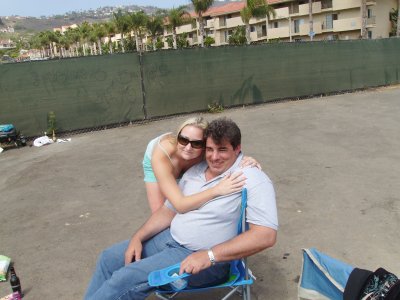 Hollywood hung onto Bob; she has the most resistance to guys who drive Plymouth Dusters that I've ever seen.
We wrapped up around 2 PM and I gave my brother a few dollars to take the trash away.