With the "Fish Count" plus all the regular divers scheduled to attend, I made sure to get to Long Point early.
It was overcast and started to sprinkle a little bit; there were plenty of parking spots.
A new diver "Chris" introduced himself to the group.
We sat on the cliffs and pondered the conditions – yep, too, green.
If Catalina sucked so bad yesterday, today probably sucks, too; we called it.
Reverend Al gave me a donated used wetsuit that he swears he never pissed in, but said, "I don't know what my son did."
Our group walked down to scope out the few psycho divers that braved the shitty conditions.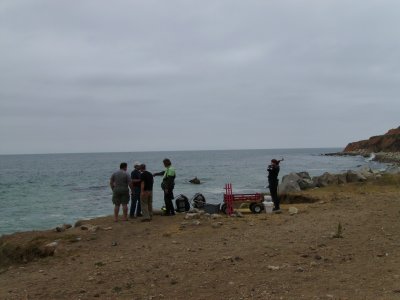 Max and Mary go in.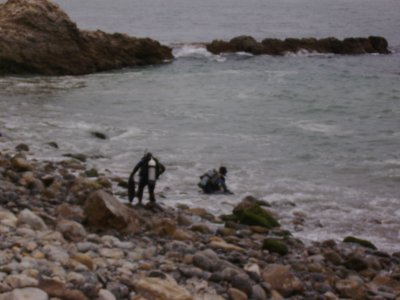 Another brave group.
We barbecued some cheap meat in Dijon Marinade and drank an assortment of beer that everyone brought.
The divers who came back said the vis was 10-15 feet, but another group said five to ten.
A free diving group came to check out the conditions; they left.
No diving, but another great day with great people.