Casino Point, Catalina, CA
Solo Diving
In With: 3000 psi
Out With: 500 psi
Max depth: 85 feet
Waves: Mild swells, easy entry and exit off the stairs
Visibility: 15-20 feet, silty
Water Temperature: Cool, maybe 55
Total Bottom Time: 45 minutes
I went to Casino Point to help Dive Master the Gold Star charity event.
I brought everything with me except a tank, which I rented at the scene for $14.
After being really patient waiting my turn to enter off the steps, an Instructor (probably from Sports Chalet) started lecturing the line on how to enter from the stairs.
I ducked under the railing and went out the exit side – nobody was coming in.
I had brought my free diving weight belt because it is easy to carry; it weighs six pounds less.
It was harder getting down than with my heavier belt; I actually grabbed and carried a small rock for added weight in the shallows during this dive.
For Casino Point, vis sucked.
I've seen it at 50 feet before, but my last dive at Long Point was better visibility wise.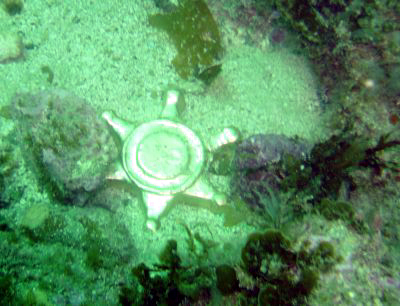 The elusive Gold Stars are already in place.
It is understood among divers that no pre-event collecting will be done.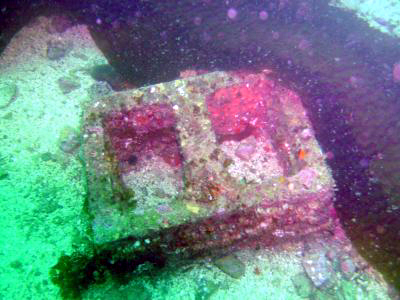 Not to be out done by Long Point and Vet's Park, Casino Point has cinder blocks, too.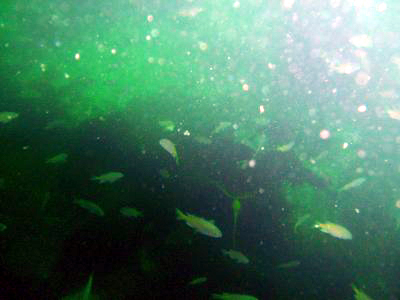 Most of my pictures ended up sucking because of the conditions.
I headed East once I was at 70 feet and visited the Sujac.
The Sujac is so well encrusted with sea life and corrosion that I almost swam right past it, until I spotted the hole in the hull.
I went to 85 feet for a short period of time, just so I could count this as a deep dive; I had problems navigating because of a slight case of Nitrogen Narcosis.
Back up the reef, I hung out at 30 feet for a bit to out gas.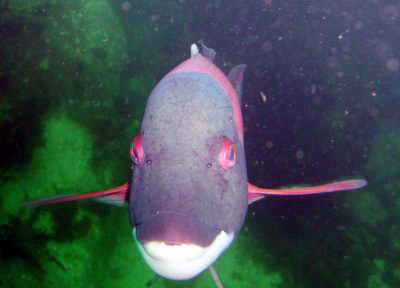 A Sheephead smiles for the camera.
There were a lot of divers in the water, but I only ran across a few on my way back…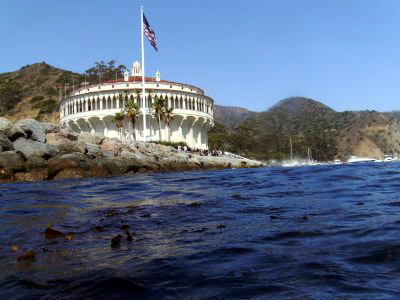 …when I surfaced, I was on the East side of the park, away from where most of the students go.
I did an easy surface swim back.