Old Marineland (aka Long Point, Terranea Resort), Rancho Palos Verdes, CA
Diving with Reverend Al, Chris A and John
In With: 3000 psi
Out With: 500 psi
Max depth: 60 feet
Waves: Flat as a lake, almost, sort of
Visibility: 15-25 feet, crystal clear
Water Temperature: Cool, maybe 55
Total Bottom Time: 50 minutes – after sucking air off of Reverend Al's reserve reg.
Vis has been good; I could not turn down a dive at the Old Marineland today.
I got to Old Marineland 20 minutes late – 8:20 AM.
Reverend Al invited me to go off The Point with him, Chris A. and John; I accepted and they waited while I geared up.
Hollywood Divers was there; I saw the famous Bill Strong for the first time in almost six years, and he had two really hot chicks with him – and him not driving a Duster, I wondered what his secret was.
Our group walked to The Point and prepared for our boulder entry.
Reverend Al was the first one to go out.
I spit on my mask, washed it and was putting it on when I heard the rest of the group yell, "Al, are you alright?"
I looked over; Al was on his stomach, reg in mouth.
"Are you OK?" I asked.
He nodded and took the next swell out, tank lop-sided.
Al apparently slipped on a rock.
I was next, determined not to make the same mistake.
I did a figure four on the boulders to put my fins on and attempted a few steps to lower myself into the water.
I slipped right where Reverend Al did and landed right on my Spare Air on top of a rock; the next swell came in and I swam out.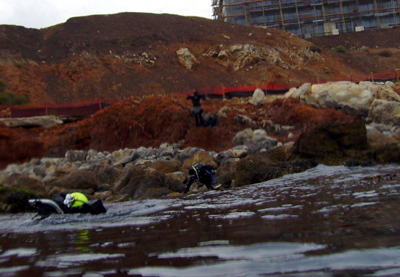 The rest make the boulder entry off The Point.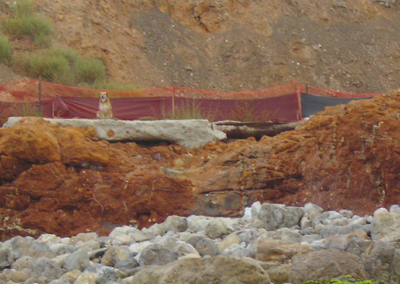 Attack Dog Cyber Dive Mastered our entry.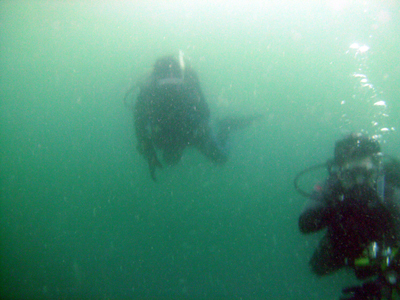 We swam out about 200 feet and submerged (hopefully) above "The Pinnacle."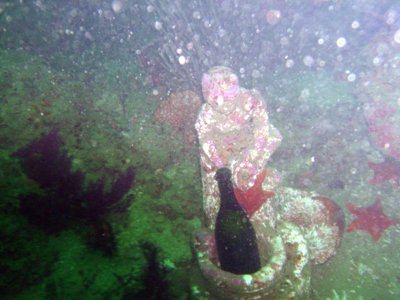 The statue at the Pinnacle.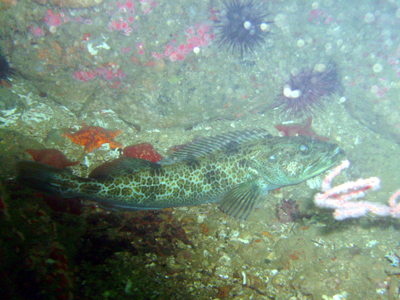 Reverend Al pointed out a three foot Ling Cod.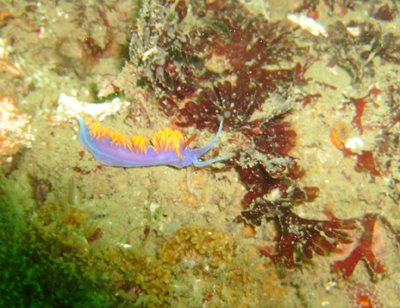 A token Nudibrach picture.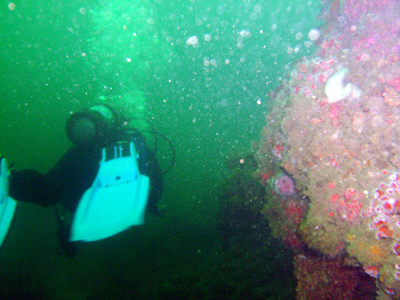 I followed Reverend Al.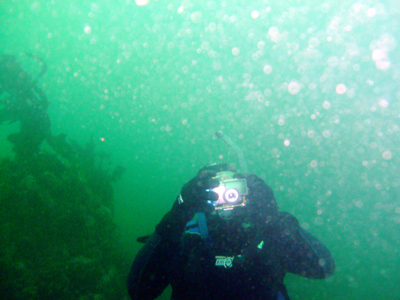 Reverend Al takes a picture of me, taking a picture of him.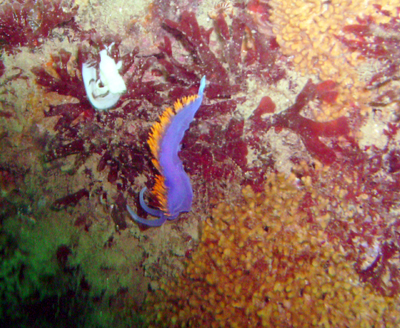 OOOOOOO — AHHHH Another Nudibrach picture.
We lost the other two divers we were with, so we surfaced and started looking for bubbles.
Two minutes later, I said, "They're not looking for us, so let's continue the dive."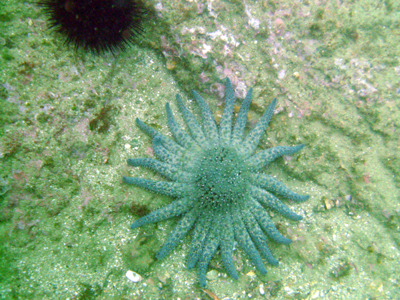 Another Sun Star – I want to eat one just to see what they taste like.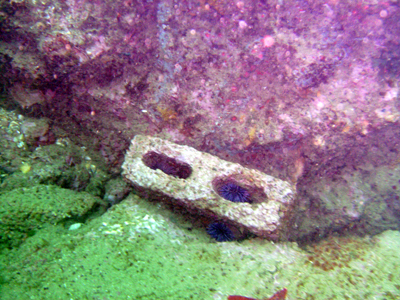 The reason I like this place better than Vets Park is because Long Point has cinder blocks, too.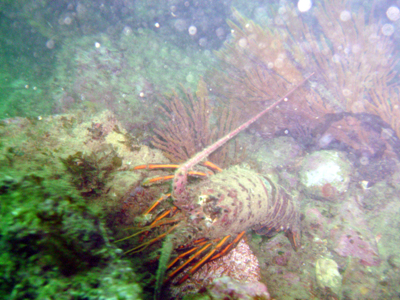 We came across a molted lobster shell… or a dead lobster.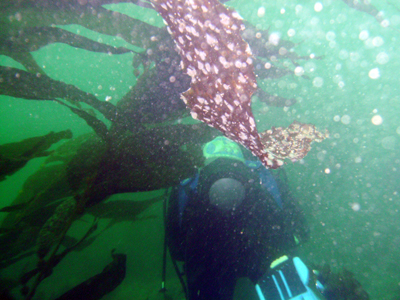 Kelp is coming back to Long Point.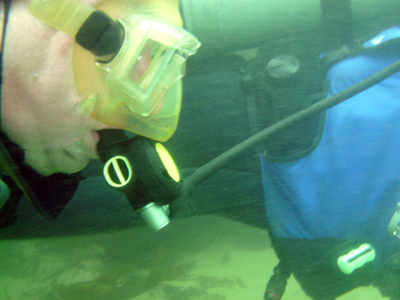 Al had 20 cubic feet more of air in his tank, so I finished the dive by mooching off of him.
We made an exit at the cove where I had problems taking my fins off.
Al remarked, "You always make the exit look so difficult."
As I approached the parking lot, a car pulled up and a paparazzi started taking pictures of me.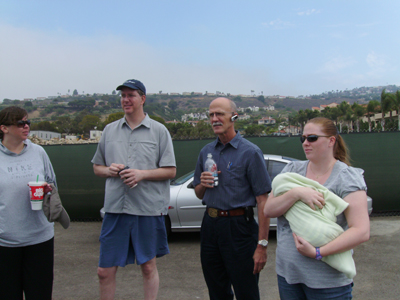 New Diver Jill, Nick, Melvin P. from the Sandeaters and an unidentified chick.
Jill and Nick had just gotten finished with a dive at Redondo Beach and stopped by for the debriefing.
Melvin P. stopped by for the first time since getting back from Iraq.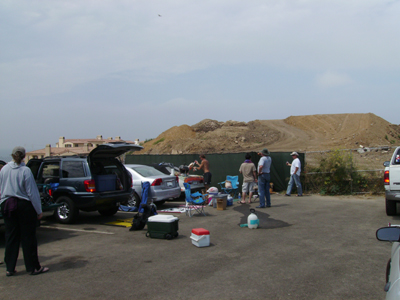 The debriefing starts.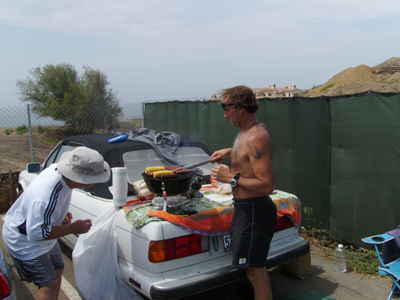 Dive Bum Don was in charge of the barbecue today.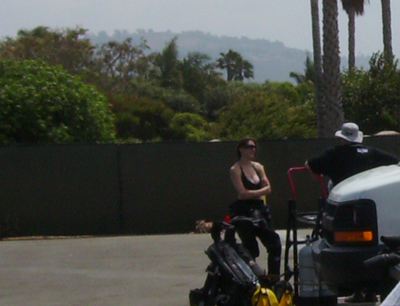 There are some really hot looking women that dive with Hollywood Divers.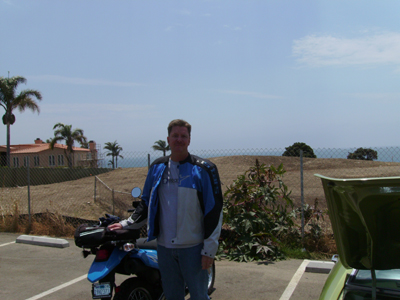 Flagger Matt stopped by to crash the debriefing; he was riding his motor scooter and thought Long Point would be safer than Walker's Cafe.