Veterans Park, Redondo Beach, CA
Solo Diving
In With: 3100 psi
Out With: 500 psi
Max depth: 105 feet
Waves: Flat as a lake, almost
Visibility: 15 feet and crystal clear until 85 feet, then a little murky.
Water Temperature: Cool, maybe 55
Total Bottom Time: 35 minutes
Having had to work really early in the morning at my real job, I arrived at Vets Park a little before 7 AM.
There were no waves and reports of great visibility, so I quickly geared up and entered the water.
Dolphins were seen swimming North, so I descended in 15 feet of water and swam East,  hoping to spot a few.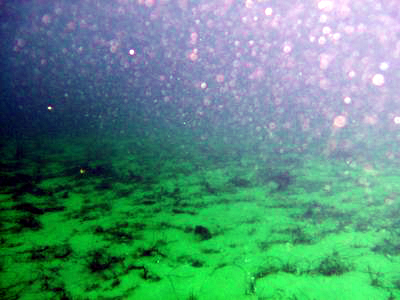 The edge of the canyon; it goes from 35 to 85 feet really quick.
I went to 60 feet and headed South towards the "monument" or "blocks."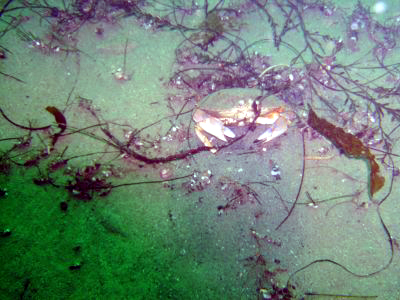 A man eating crab.
There seemed to be less trash to look at on this dive.
After not finding the monument, I decided that I should go deep; after all, I need to find a purpose for this dive so I could feel some sort of accomplishment.
So I headed West — I was feeling REALLY good.
The Nitrogen Narcosis was getting me really buzzed, my brain pictured Tommy Chong singing a concert of "So Fine."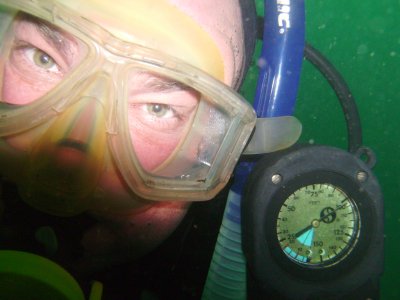 This is what I look like when I'm narced at 105 feet.
I turned around and became a little concerned when I kept kicking East and not getting any shallower.
I thought, "I'm suppose to go East right? Maybe it is West?"
Yep, I was narced.
I've made that mistake so many times, but I forgot how far 105 feet is from the 85 foot slope off the canyon.
I made it to shallower and warmer water at the top of the canyon.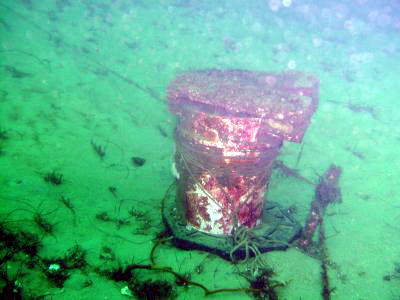 I ran in to THE cement bucket; I was so excited!
I did a slow swim towards shore, combining my safety stop with the swim in.
I made an uneventful exit as the water was really flat, but still managed to trip over the sand step that's in one foot of water.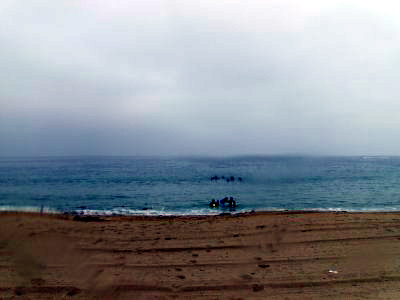 This morning was ideal conditions for dive classes.
After a Chelada and some conversation with other divers, I headed towards home.
Comments Off

on Logged SCUBA Dive #290 – Practice Deep Diving At Veterans Park