I finally went to the SCUBA show after many years of assuming it was going to be a bunch of vendors pushing travel packages.
I took the bus down to the Convention Center to avoid the parking situation and to mingle with the common folk.
It was $12 admission into the hall and an additional $25 for unlimited Seminars – the beers were $5.50 for a Budweiser bottle.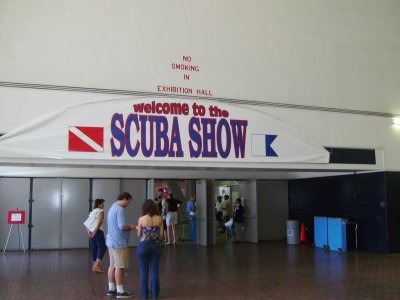 The first Seminer that I attended was "A Divemaster Shares His Secrets" by Ken Knezick of Island Dreams.
Unfortunately, the title was all that persuaded me to attend.
He briefly talked about reading other divers and safety issues, but by in large it was how to travel with gear, which gear to bring and how to chose a dive charter.
As he said, "99% of the time, nothing goes wrong on a dive, but you want to chose a dive charter that can deal with the other 1%."
A good seminar, but I think the title should have been changed to "How Not To Have A Bad Diving Vacation."
The second seminar was put on by the publisher of California Diving News and author of The Best Southern California Beach Dives.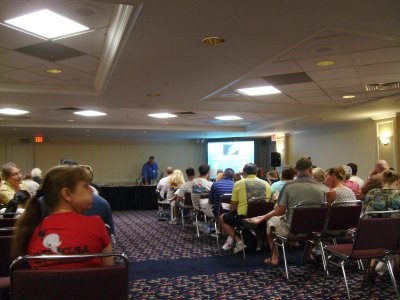 He basically went over his favorite beach dives – some place in Ventura, Leo Carrillo, Old Pier number three in Redondo Beach, Malaga Cove and White Point.
He ran out of time before he got to Orange County.
I was going to go to "Why Divers Die," but the lack of earth shattering news at these seminars made me just want to cruise the hall.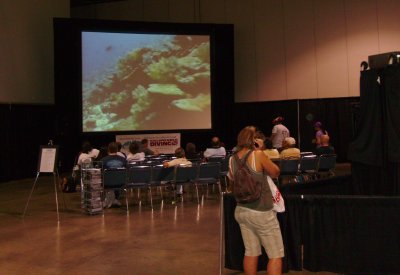 In the back of the hall was the movie festival.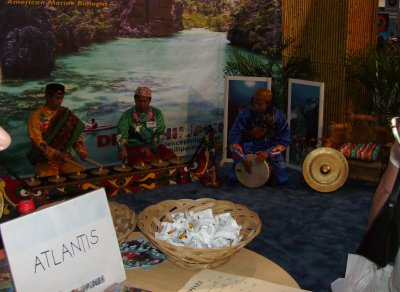 Some travel booths even brought some native entertainment.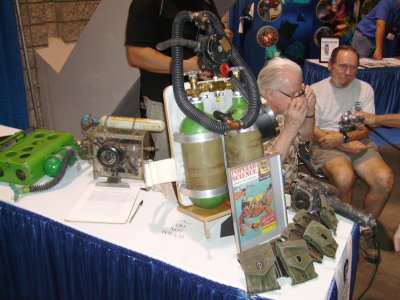 Ancient SCUBA equipment is displayed by the Historical Diving Association.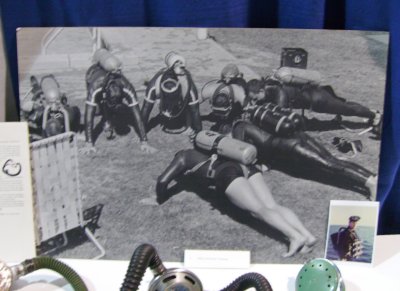 Let's not forget ancient instructor training, too!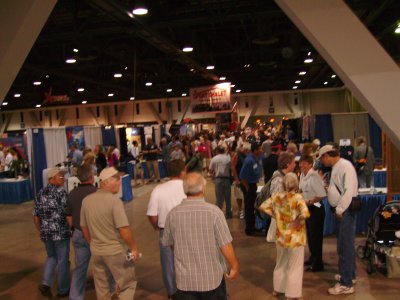 The hall was fairly crowded; but during the course of the show, I ran accross many dive friends – Divevets, Pacific Wilderness, Dive and Surf.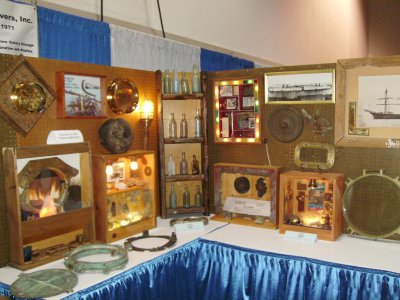 The California Wreck Diving Club displays recovered artifacts.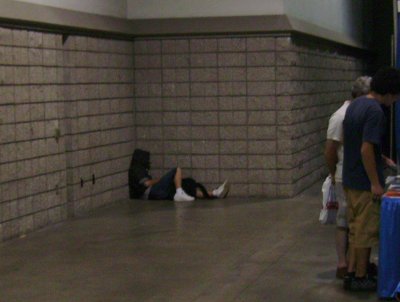 Even at $5.50 a beer, some just drank too much.
All in all a great SCUBA Show – I will go again next year, but I think I'll skip the seminars.
Comments Off

on The SCUBA Show – June 21, 2008