August 10, 2017
I have had a horrible time with trips lately.
I get all excited, tell people that I'm going, to only have something out of my control cancel the trip.
As I said previously, I will no longer be announcing my trips.
I will take it from the old Soviet space missions – report on things after they're already done, and edit accordingly.
So, I'm taking a mini-vacation and decided that my journey will be starting and ending in Beijing, China.
Of course, to compensate for getting scammed all the time, I have to be a frugal as possible in other parts of my life.
So, instead of paying for a direct flight to Beijing from LAX, I cut my travel costs in half by taking a direct flight from LAX, past Beijing to Changsha and then take another two hour flight back and land in Beijing.
Thursday night, Professional Debriefer Paul stayed sober enough to give me a ride to the airport; I thank him for his sacrifice.
Traffic to LAX was great, until we got to the airport – it was nightmare traffic from hell.
It was so bad, PDP dropped me off at the arrival level.
I checked in with no problems and was even lead to the "family security line" where I didn't have to remove my shoes or laptop from my bag and avoided the porno scanner and gate massage.
The flight was an hour late and I asked the counter person if I would have enough time to transfer to my flight to Beijing – I would have one hour.
"Oh, no problem," I was told.
My flight was rescheduled to leave at 2:40 am, so I ordered six beers at the bar before they closed at 1 am.
We took off; I had an isle seat next to a very nice Chinese couple.
I was tired… I mean really tired… travel anxiety, the airport, the 12 beers I had before I left… I just fell asleep.
I woke up six hours later and looked at how much longer we have to fly; only eight more hours!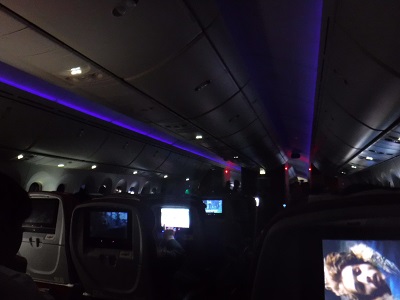 The Sun was nowhere to be seen; it actually only came up during the last hour of the 14 hour flight.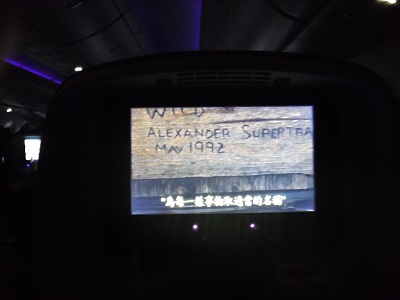 All the American movies have Chinese subtitles on Hainan Airlines.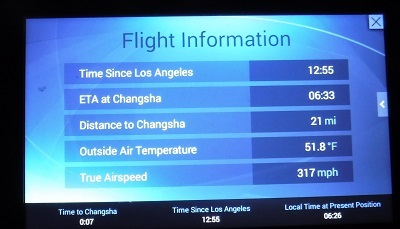 We landed actually right on time, even though we were an hour late in taking off.
It seemed like it took forever to get my luggage, and get through customs.
The customs agent was grilling me on why I was there and why I have a Russian visa that expired and I had never gone to Russia.
"My trip got cancelled, that's why I came here," I said.
By the time I actually got my domestic boarding pass for the next flight, I had 30 minutes before boarding and waiting in the security line I was thinking, "Fuck! I'm gonna miss my flight!"
I didn't even have time to exchange my money into Chinese Won.
I got there right when the flight was to board…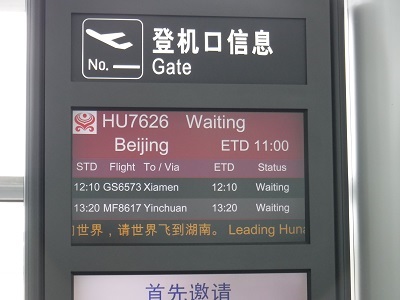 Our flight was delayed, and I didn't know why.
I met a fellow passenger who needed a connecting flight from Beijing.
He said, "The Beijing airport sucks; I try and avoid it at all costs. I'm going to miss my flight."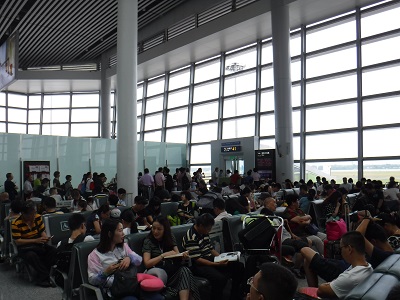 After two hours, an announcement was made in Chinese over the PA, and then 90% of the passengers left the waiting area.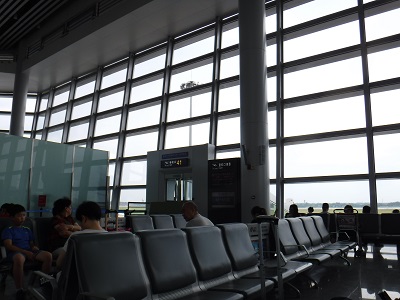 I asked what was going on to the lady at the desk, but she spoke no English.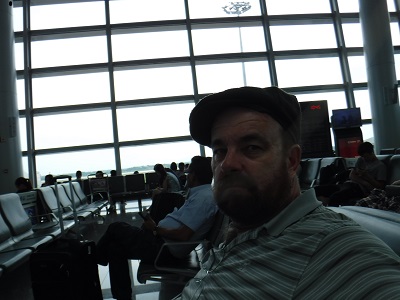 After some time, they brought out an English speaker who said that "All flights have been delayed due to thunderstorms and wind in Beijing; we have shipped our guests to a hotel until the flight will resume."
Really?
I tried to order a beer at the noodle bar, but they didn't take American money!
This was the first time that I've ever been to a country where they don't take American money!
After four hours, and nobody was back in the terminal, I decided to make a mad dash to the international terminal and exchange my money for RMB.
So, now I can have a few beers and eat!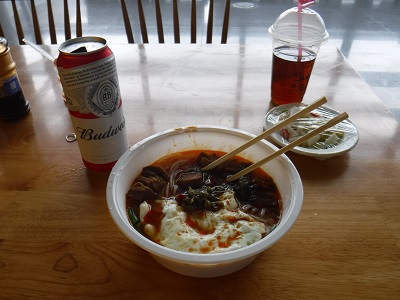 鸡胚,面条热啤酒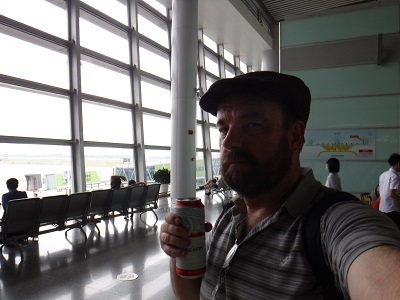 They have Budweiser, The King Of Beers, but it has the old pull tabs that get littered everywhere.
Seven hours late, we finally were given the all clear to board the plane to Beijing.
We were told, "This will be a bumpy ride, so be prepared."
And yes, it was.
I was sound asleep on the flight when I was awoken by people screaming and noticed that my stomach was in my throat – we were weightless for a few seconds before the plane stabilized and then shook more.
We landed in Beijing Friday night.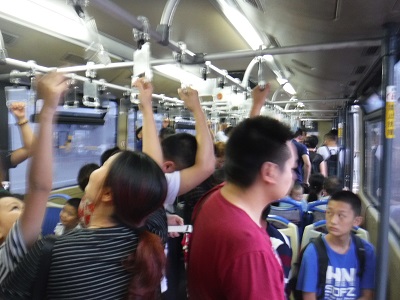 For some strange reason, we landed way the hell outside the terminal and were bused to pick up our luggage.
This should be an interesting trip.