October 25, 2014
This is the annual Divevets Underwater Pumpkin Carving Contest.
It gives participants a chance to do something fun and productive when they aren't admiring the sand and trash.
The event was lightly promoted this year, and ECO Dive Center, having kicked our butts last year, did not participate this time.
Participation was rather low, comprising less than a dozen divers and shore support.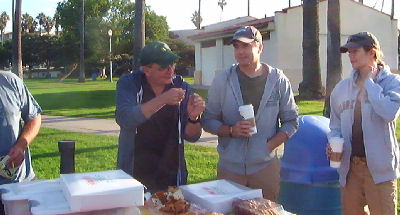 Dan gave several dive briefings as divers showed up.
TwinDuct has reappeared after his trip to seek riches in Alaska; he was paired up with a diver named – I hope I'm right – Carmella?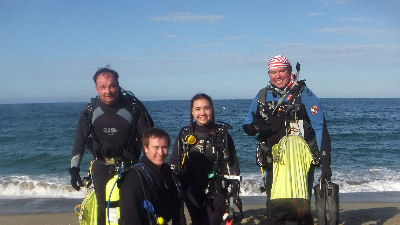 Me, TwinDUct, Carmella and Walt are ready…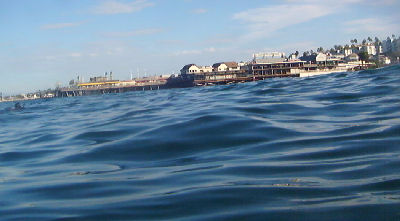 Visibility from the surface sucked ass, we went further out before submerging.
Logged SCUBA Dive #478
Dove with Walt and Dennis G. the first part; solo on the second half.
Veterans Park, Redondo Beach, CA, USA
In With: 2800 psi
Out With: 900 psi
Max depth: 80 feet
Waves: Annoying shore surge, but good once out
Visibility: 8-10 feet
Water Temperature: 68 degrees
Air Temperature: 76 degrees
Total Bottom Time: 25 minutes
We chose a nice spot in 30 feet of water.
I started taking pictures…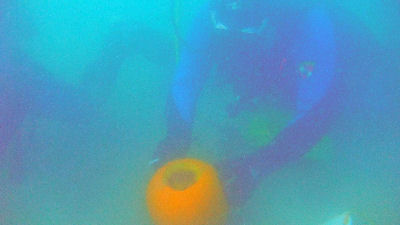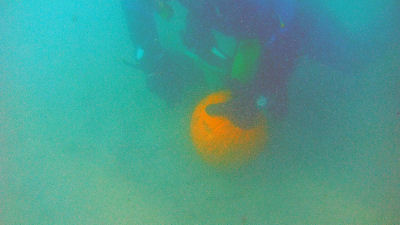 Then, I noticed my camera case leaking again!
FUCK! This is getting to be too expensive!
I shut the camera off immediately.
I showed Walt what was going on and immediately surfaced, with an eighth of an inch of water in my case.
I went ashore and wrapped my camera in paper towels and set it in the sun.
Donna The Hot Biker Chick made a non-diving appearance.
I asked her if I should stay up there and drink beer with her, or go back in and finish my pumpkin.
She said, "Go back in and finish your pumpkin."
So another trek down the stairs and in to the surf, I was off to finish my task.
I spent a whole one minute on my creation before heading down the shelf to 80 feet.
I headed in and exited without incident; seeing other divers struggle in the surf zone made me feel macho.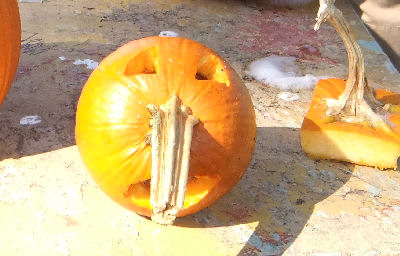 My entry.
More entries…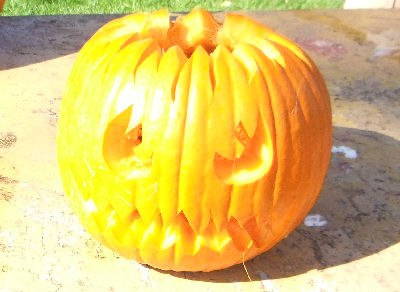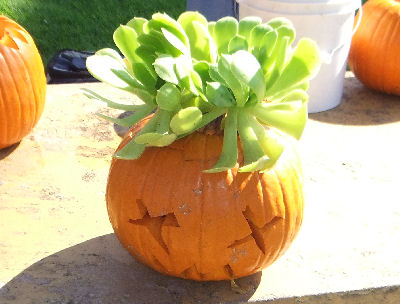 Having taken longer than most, by the time I de-geared, the winners were already announced.
I won for "Worst Pumpkin."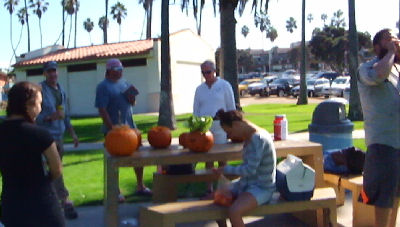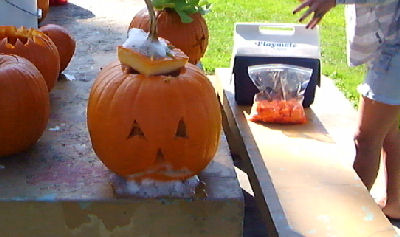 Chis From Detroit won Best Pumpkin with this creation – it fumed dry ice.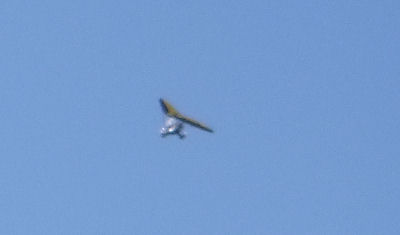 A UFO buzzed us – it looks like the same one that stalks Terranea Resort.
For some reason, not many people have been going out lobster hunting this season.
Maybe it's because they are harder to get, or maybe because of the weather lately.