February 3, 2013*
I haven't dove in over a month, but bought a new BCD and boots; I was planning to do a test dive on Saturday at Veterans Park to test my new gear.
I saw a post on the Divevets Facebook Page that said they have a boat going to the oil rigs on Sunday morning, to be back in time for "Super Bowl Sunday."
I never dove the oil rigs, and I must say, I could not pass this up.
The boat was the "Pacific Star" a.k.a. "The Pac Star."
The boat was to leave at 7 AM sharp, so I left the Long Beach Ghetto at 6:18 AM.
I was driving South on the 710, ready to cross over the bridges to San Pedro when I ran across the "Detour Freeway" signs.
Don't fucking tell me, you closed the bridge?
I passed the signs, only to make a turn off to the Queen Mary, a U-turn in Downtown Long Beach, to be brought to another detour that took me along some surface streets by Berth 55 to be put on the bridge.
Shit, I almost didn't make it, but I did.
Okay, so it's a Divevets boat, but had no idea who would be on it.
To my surprise it was Donna the Hot Biker Chick, Divevets Dan and seven other, mostly Wednesday, divers.
Six other people who made reservations stiffed the boat owner; they were no-shows.
The boat had ten divers, and for a boat that big, it was almost a private charter.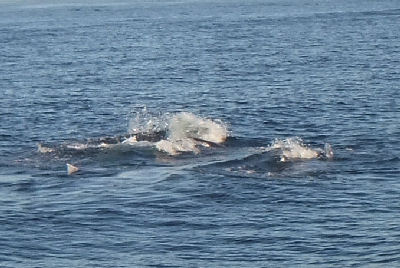 We were slightly delayed because the boat stopped to watch two whales boinking each other.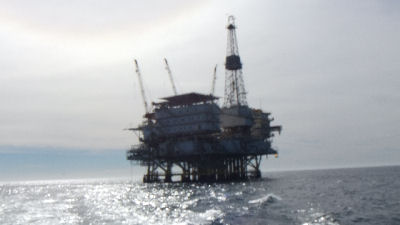 After passing a security check and getting permission from the Oil Rig, the transportation company and the Coast Guard, we approached the oil rig.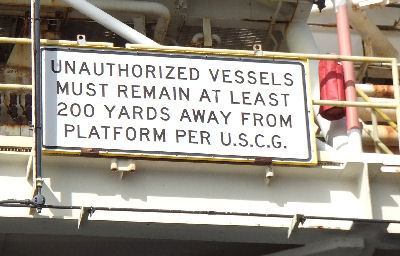 Having done all this, this assured us that we would not get strafed with 50 mm machine gun fire and rocket propelled grenades on approach.
Logged SCUBA Dive #430
Dove with Donna The Hot Biker Chick, Divevets' Dan and Carl
Eureka Oil Rigs, California, USA
In With: 2800 psi
Out With: 600 psi
Max depth: 121 feet
Waves: Pretty calm
Visibility: Eight to 10 feet, but cleared to 20 feet at 60 feet
Water Temperature: 54 degrees
Air Temperature: 74 degrees
Total Bottom Time: 24 minutes
This was a first in my diving history – this was the first dive on water so deep, that I couldn't reach the bottom and expect to make it back alive; the ocean floor was said to be 731 feet below.
I borrowed someone's light after being told that I needed one.
"Crap, it's during the day, why do I need a light?" I asked.
"Trust me, it's dark down there," I was told.
The oil companies scrape the first 20 feet of their supports, but below that is an enormously deep artificial reef full of fish, white and strawberry anemones and scallops – tons of scallops.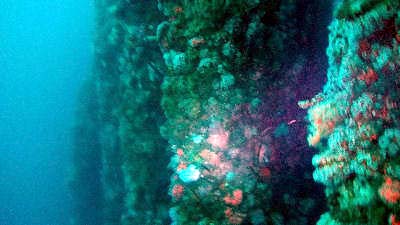 After descending through a crap layer of about 40 feet, visibility cleared to 20 feet plus.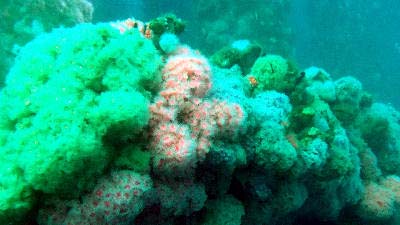 I stopped when I thought I had reached 80 feet… I looked at my gauge and confirmed that I was sort of close… only off by 41 feet, at 121 feet deep.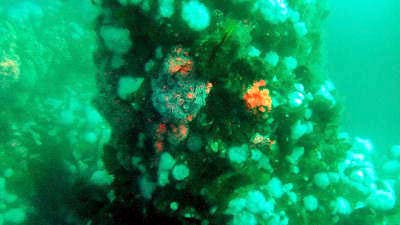 There wasn't too much horizontal exploration as the vertical ascent through all the beams and supports made the dive interesting.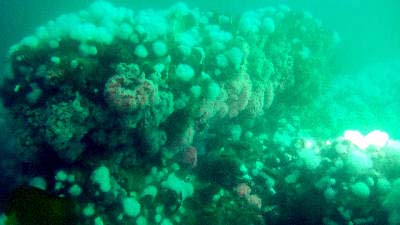 We slowly ascended to the surface underneath the rig, and just as planned, we waited for the Dive Master to give the OK for us to swim towards the boat where we would be thrown a line and towed away from the rig so we could safely board.
Our second dive awaited us after an hour surface interval.

*Post delayed because of the Super Bowl.
Comments Off

on Super Bowl Sunday – Diving The Eureka Oil Rig