My long awaited trip to Albania is finally happening!
After scrambling at work up until the time I left, I packed rather quickly.
I was dropped off in Santa Monica, and partied with Professional Debriefer Paul until the bartender at TRiP threw us out.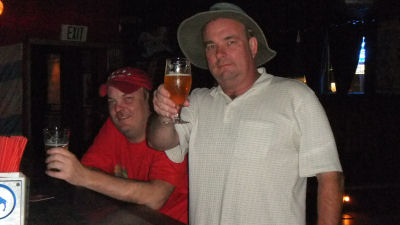 Paul dropped me off at the airport at 3:30 AM and I was off to Washington D.C. for a four hour layover.
Paul told me, "If you want to make friends, bring cigarettes."
The guy at the Duty Free shop asked me, "Where are you going?"
"Albania."
"Sorry Sir, this is only for international flights."
"I'm going to fucking Albania, how much more international to you want to get?"
He got pissed and asked to see my boarding pass.
I handed him the pass to my next flight.
He responded, "Oh, you are going to Munich, that is okay."
I asked, "So, why is Germany okay, and Albania is not?"
He said, "I am sorry Sir, I thought you meant Alabama."
So, the flight from Dulles to Munich was long – over eight fucking hours long.
I traded a row seat for a row seat, so some elderly woman could sit next to her husband.
I had loaded my MP3 player with free downloads of the radio shows "Dragnet" and "Amos & Andy."
I must have listened to about six episodes of each, before falling asleep, only to wake up and watch "21 Jump Street" on the airline's movie channel.
The last two hours, my back started to hurt and I was getting claustrophobic.
The reason?
United Airlines is communist and no longer takes American money!
United Airlines only takes credit cards, and when they refused me a beer because I wanted to pay with American money, the sky waitress told me, "You are an American and don't have a credit card? You are weird."
We landed in Munich without issues and I was able to chug down two real West German beers before the flight to Tirana.
It was a 9:25 AM departure time – I thought that's what time the flight was going to take off.
Nope – I walked through the terminal, past the airplane that was at the gate, to be taken to a bus…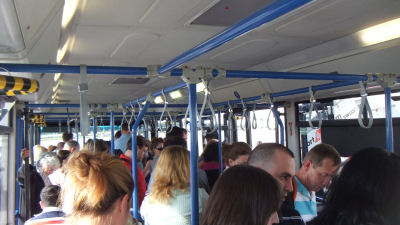 … that drove us to the other side of the airport, to where the airplane was.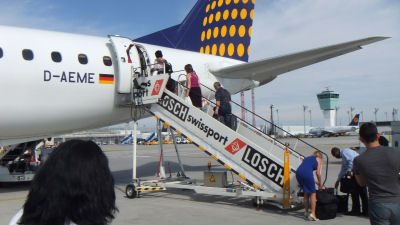 In under two hours, We landed at the airport in Tirana, Albania.
There was a really hot chick sitting next to me the whole time.
She spoke fluent English and Albanian, but lived in Germany; I'm not sure what her story is.
Then it dawned on me – Holy shit! I'm in Albania!
Another bus took us from the airplane to the terminal.
I handed my passport to the lady at the entrance – she looked at me, looked at my passport, stamped it, and handed me the address to the U.S. Embassy.
I grabbed my check in bag from the conveyor belt and walked to the end of the terminal.
A big sign read "Customs."
One door was painted red, and lettered on it, it said, "Customs, things to declare."
The other door was painted green and said, "Customs, nothing to declare."
I went through the green door, following everyone else, and all of a sudden, I get mobbed by dozens of taxi drivers.. "Taxi?" "Taxi?" "Taxi?"
That was Customs?
I started walking to the bus stop, per my instructions.
It was hot as hell, and the next bus wasn't for another 40 minutes.
The most determined of the taxi drivers got my business to drive me to my hotel.
I was shocked as shit to see two cars – one with a New York and the other one with a New Jersey license plate on them, driving around in traffic, in Albania!
The cab driver told me, "A lot of Albanians live abroad to work, but send their cars home to their families."
More on that later.
After a short rest, I met my guide Idit.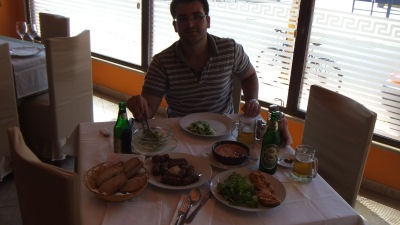 We dined on traditional Albanian food – Beer, salad, "meat balls shaped like sausages" and bread.
The spread for the bread was some concoction of olive oil, ricotta cheese, tomatoes and liver.
It was really good!
In Albania, the farmers are so poor, that they can't afford pesticides; so by default, everything is organic.
Idit showed me around downtown Tirana, and gave me careful instructions on how to cross streets.
Basically, you wait for the green man to tell you to walk, but jump out of the way of any car that ignores this.
Seriously, if there is a small gap in pedestrian traffic, a car will squeeze through.
I only saw one beggar, but people selling roasted corn on mini grills or selling cigarettes or exchanging currency is common.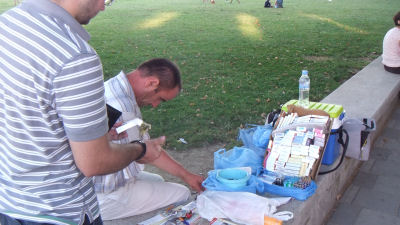 Idit had to explain to this man that I am an American "tourist" after taking this picture, and not a cop.
Apparently, all this street activity is illegal.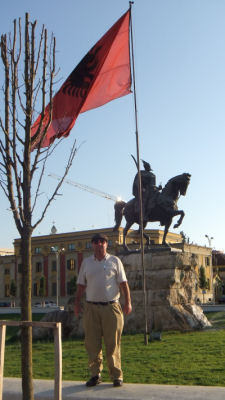 Me with the Albanian flag and the statue of their national hero; notice that I'm trying to look like a European.
There is so much more to write, but it must wait.
We are headed to Porto Palermo by car today.
Internet availability will be spotty.
Thank God for Idit though, I would be clueless here without him.