I have found out some very disappointing news regarding my planned SCUBA diving trip to Albania in April.
I will have to put that subject together in my next post, within a couple of days – check back for details.
There were lots of divers at Sunday Services – I would say a good twenty, and lots of new faces.
Taking other people's word for it, our group geared up and proceeded to The Point – Air Force Chris and I have a "No pain" policy of Point entry.
It was low tide, and if you didn't time the waves just right, you would get dragged over boulders – we called it and headed for The Cove.
Entry at The Cove was still tricky – it was low tide, and stepping between the slippery rocks as the waves rolled in and out sucked.
Air Force Chris and I made it out with no problems.
Three divers followed behind us – one fell, and face planted on the rocks, losing a fin that promptly washed away with the receding wave.
Just a little bloody, the diver got up and snorkeled in the surf zone to retrieve his fin, but with no luck.
His two buddies and Chris and I looked for the fin – some underwater, some from the surface, as the waves rolled in and out of the surf zone; I almost got beached a couple of times.
I swam out about 20 yards, aligned with where he fell, submerged and swam towards shore, skimming the floor.
In 15 feet of water, I found his fin.
Chris and I headed to 120 reef, the other three headed to the right.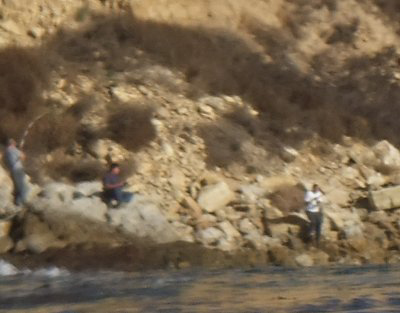 Illegal fishermen on the East side of Pigeon Shit Cave.
Logged SCUBA Dive #403
Dove with Air Force Chris
120 Reef,Terranea Resort, Rancho Palos Verdes, CA USA
In With: 2900 psi
Out With: 500 psi
Max depth: 44 feet
Waves: A little rough, but manageable
Visibility: Eight feet, maybe better
Water Temperature: 55 degrees
Air Temperature: 69 degrees
Total Bottom Time: 45 minutes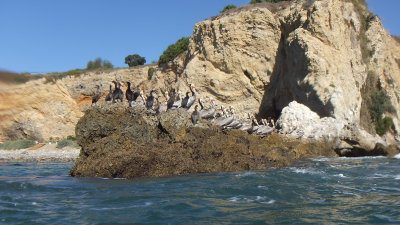 We descended.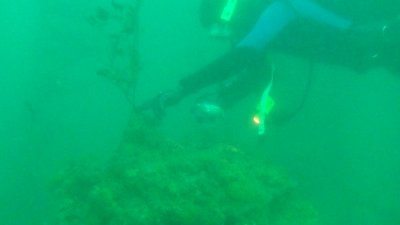 Yeah, it was a little green – eight feet of visibility, I think.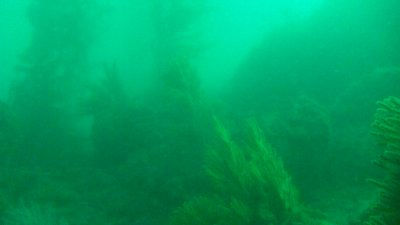 When the visibility is low – just go macro.
I did the best I could…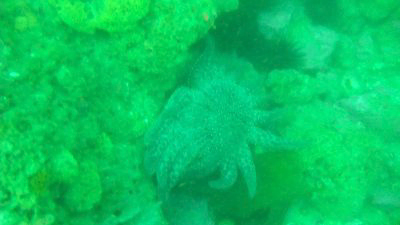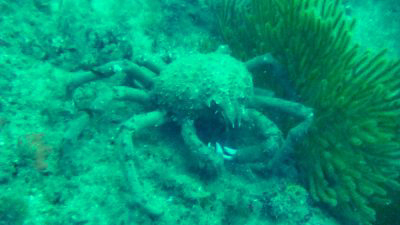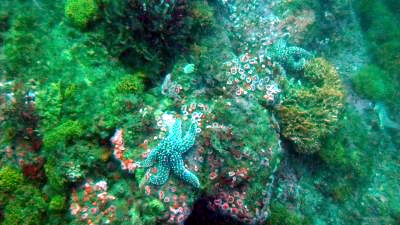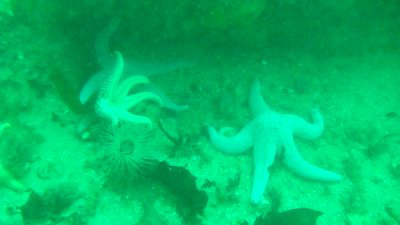 All in all, it was a great dive.
I made a sloppy exit, washing to shore with my fins still on, and flailing on the rocks trying to get them off.
Luckily, there were no cameras and no women watching.
The braves souls that dove off The Point completed their mission…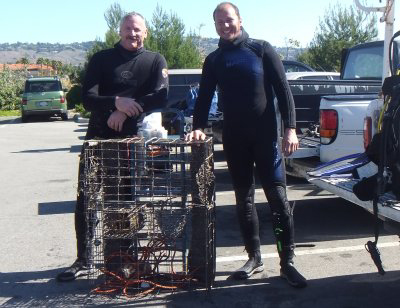 They successfully recovered an 80 pound abandoned lobster trap, using lift bags and brute force.
Now, whether it's worth anything remains to seen, but at least a rogue lobster trap has been removed from what is now a Marine Preserve.
Debriefing was, of course, world class; but we made sure that it didn't interfere with the other Super Bowl parties that lay ahead.
You want to take your husband's car and rub it in?
This car was spotted in the parking lot…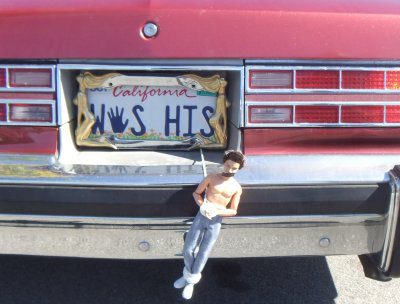 Typical vengeful woman.