I have been popping Sudafed like candy for the last two weeks – so much so, that the Pharmacist probably thinks I'm manufacturing speed.
However, my self medication cleared my head enough to where I could make this dive.
Finally, a local place that I haven't dove before!
I was invited to go aboard The Island Diver to dive the Star Of Scotland wreck – built in 1918 for World War I, the ship eventually was anchored off the coast in the 1920s, in international waters, and provided alcohol, gambling and prostitution services to customers who were ferried to the ship.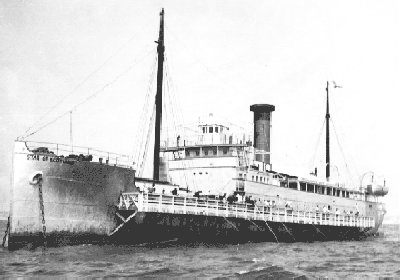 After prohibition ended, the ship was turned into a fishing barge.
There's speculation that the ship was in disrepair, and the many small boats that hit the sides over the years, weakened the integrity of the hull.
In 1942, a heavy storm hit, and The Star of Scotland took on more water than it could pump out.
A distress call was made to the Coast Guard – when they arrived, the ship suddenly sank within 30 seconds.
Three crew members were rescued, one died – apparently, those were the only ones on board.
From Redondo Beach, the trip to Santa Monica waters only took 55 minutes in the mighty Island Diver.
Logged SCUBA Dive #396
Sort Of Dove with Joe R., John J. and Jennifer G.
The Star of Scotland, Santa Monica, CA
In With: 3000 psi
Out With: 500 psi
Max depth: 80 feet
Waves: Flat with some chop
Visibility: 15 feet
Water Temperature: 57 degrees
Air Temperature: 67 degrees
Total Bottom Time: 25 minutes
I made an easy descent down the anchor line.
I was to follow Joe R. and his group – I knew nothing about the wreck, so I was not intending on getting separated.
However, I brought my new underwater camera, and as I was trying to make some adjustments, we got separated.
The wreck is crumbling and in two parts – the bow lies on it's side, about 20 feet from the rest of the ship.
There are places to penetrate, but it is not recommended.
Visibility was 15 feet – the best one can expect here.
The entire ship in encrusted with sea life, and one huge ass lobster hiding out of reach in the hull.
After cruising around the wreck for 18 minutes, I found the anchor line and slowly started up to the surface.
Video and photos and a write up of the second dive to come soon.
Comments Off

on Diving The Star Of Scotland