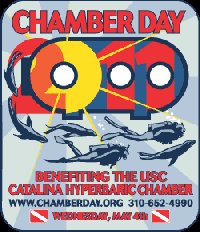 With Psycho Bitch gone it is time to start anew, socialize and find my next ex.
I bought a ticket to the Catalina Hyperbaric Chamber Dinner at the Divevets table – the cost was $90, and included dinner, raffle tickets and a free tour of the Aquarium of the Pacific.
All proceeds, over the cost of the meal went to the general operating fund for the Chamber; even though they charged $6.50 for a can of Heineken, the Chamber didn't get any of that.
I've heard this has been a fun night in previous years – lots of women and lots of beer.
This year, the Divevets couldn't fill their table, so half the people there were strangers.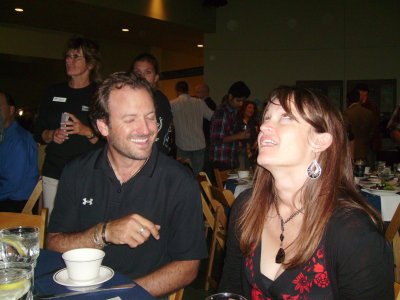 Mike C. was working on Donna The Hot Biker Chick, even though she seemed thoroughly annoyed at first.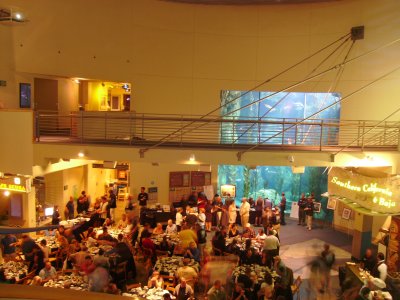 The entire main floor of the Aquarium Of The Pacific was made into a gigantic dinning area.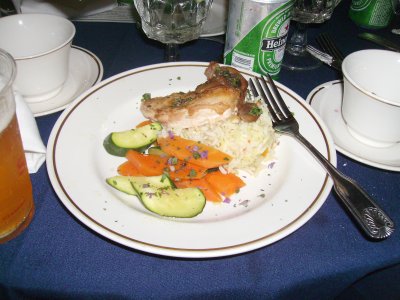 This is what I was served – I asked, "Is this an appetizer?"
The waiter said, "No this is the main course."
This really hot chick from Arizona, Jill, sat at our table…
So now, cock blocker Mike has two chicks now swarming all over him.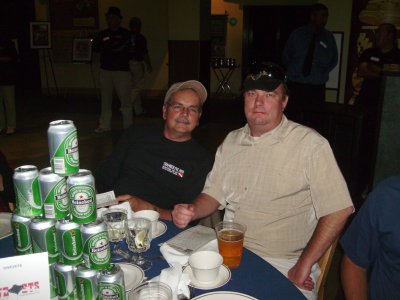 And… I'm stuck sitting next to Dan who's getting more drunk and telling me that he's so horny that he would even do me.
So far for me, the night was sucking hard – if it wasn't a charity event, I probably would have just left.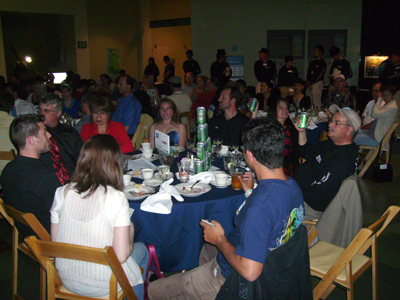 Sans me, here is our table.
One couple, Mike and Yoko, who we don't know, seemed to be increasingly annoyed at our growing beeramid of Heineken cans – the Aquarium went cheap and decided not to serve Budweiser!
They showed an old episode of Emergency! that featured a diving accident and the use of the hyperbaric chamber.
It was quickly pointed out that they flew to the chamber on Catalina for the outside shots, but the interior scenes were done on a sound stage in Hollywood.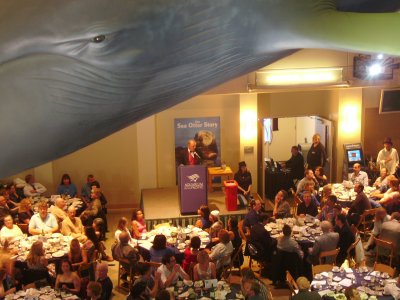 The announcer explained that the Catalina Chamber only receives 50% of it's funding from LA County and the rest comes from charity events such as this dinner – OK, so I felt a little warm and fuzzy – probably from the beer – even though Mike was getting all the chicks and Dan was hitting on me.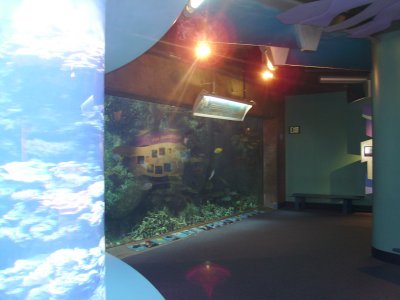 The Aquarium was open for tour – it was really nice not to have thousands of screaming kids around, as is usually the case.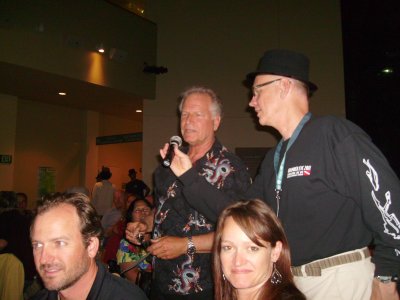 The world famous Bill H. won a raffle prize – I believe it was a BC system worth $900.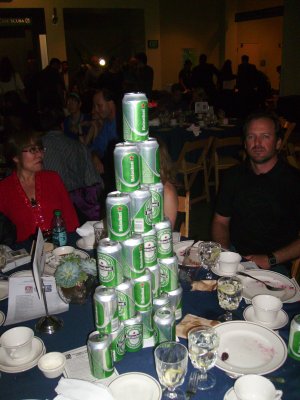 Our beeramid is complete – only because the bar ran out of cans.
I got burned not only with the women, but with the raffle prizes as well.
Oh well, at least the Chamber is there if I ever need it – I think next year I'll just send them $90 and skip the dinner.