110 biodegradable and fish food friendly hard boiled eggs, all with playing card values written on them, were placed in the water off of the Malaga Cove gazebo.
The idea was to find five eggs, and with the three community cards make your best poker hand, hopefully winning the grand prize – usually a beach towel or hat.
Of course, there's always one specially marked egg that wins the super grand prize – usually an all expense paid trip to an exotic dive location.
Unfortunately, year after year, nobody has ever found such egg.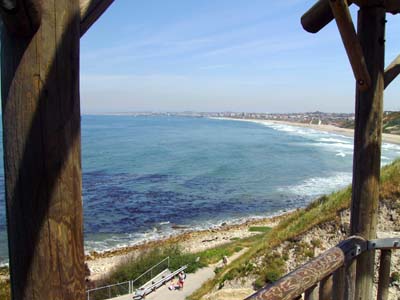 The conditions above water were nice, and if you were a surfer, the ocean would be great, too.
However, the water looked muddy and the entry and exit were a challenge to non-macho divers; some called the dive here and went to Old Marineland (a.k.a. Terranea Resort).
Still having a slight problem with my ear, I wanted to keep the dive shallow, and this was the place to do it – plus with reduced competition, I was sure I would win a prize.
Logged SCUBA Dive #378
Malaga Cove, Palos Verdes Estates, CA
Solo Diving/SoCal Buddy Diving
In With: 2200 psi
Out With: 700 psi
Max depth: 20 feet
Waves: Four feet maybe – good day for surfing
Visibility: 5-8 feet
Water Temperature: 57 degrees
Air Temperature: 75 degrees
Total Bottom Time: About 22 minutes
Being a little selfish, I opted to go solo so I could make my dive plan up as I went along, and not worry about someone else.
Diving under the waves and dodging the surfers who made it a point "not to see me," I made it out from the sandy beach.
I swam parallel to the gazebo and dropped.
I knew the dive was going to suck – lots of silt, and the surge underwater was sometimes so intense that deadly horn sharks were not sleeping on the ocean floor, but prowling around looking for a diver to bite.
Being so macho, I was not scared.
I also had the kelp to deal with, as I was constantly getting caught swaying back and forth with the surge.
After about 20 minutes, and finding no eggs, I decided to call it and head back in.
After a long and slow surface swim, I made it back to shore without incident.
My ear didn't bother me, so I'm glad I kept it shallow.
However, I had sown the rip up in the butt of my wetsuit using dental floss and neoprene cement and the cement had chaffed my leg.
Richard The Brit, after seeing my empty game bag said, "We were just kidding about hiding eggs, there weren't any."
His joke was short lived when other divers came back with eggs.
I was told, "We always hide the eggs at the edge of the kelp beds, not in the kelp beds."
I didn't know.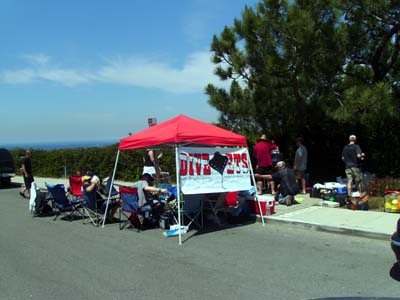 There was a pretty good turn out, but I think no more than eight divers actually dove here.
Other divers returned from Old Marineland and reported great conditions with visibility up to 25 feet.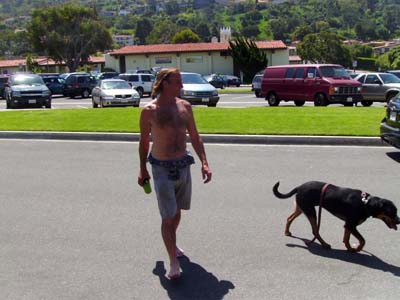 Dive Bum Don and Kilani are back in town and made an appearance.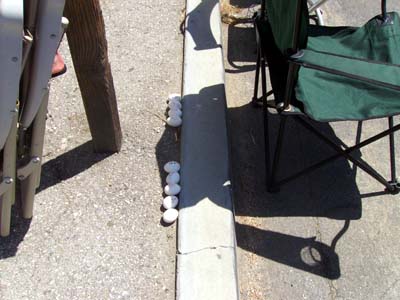 The hands were made.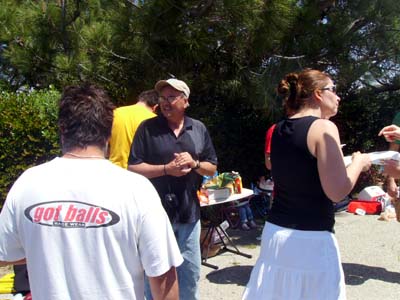 Dan figured the best hands.
I believe Jester had the best hand with a Royal Flush, I had the worst hand by having no eggs at all, but with so few divers everyone who got in the water walked away with some kind of a prize.
I got a Dive N Surf baseball cap.
The barbecue and debriefing continued until afternoon.
There were several new faces there, including a really hot looking blonde chick, who brought her own diving buddy.
Professional Debriefer Paul has documented this event:
To view this video on YouTube, click here.