Logged SCUBA Dive #318
Secret Location: 4f 6e 20 6f 72 20 76 65 72 79 20 63 6c 6f 73 65 20 74 6f 20 74 68 65 20 66 61 72 6d 20 74 68 61 74 20 67 72 6f 77 73 20 70 69 70 65 73, Redondo Beach, CA
Solo Diving/SoCal Buddy Diving
In With: 3000 psi
Out With: 600 psi
Max depth: 80 feet
Waves: Pretty flat
Visibility: 15-20 feet
Temperature: Maybe 60 degrees or so
Total Bottom Time: About 25 minutes minutes
Instructor John was unable to dive during the week, so I've been dry for over seven days   now.
My dive computer needs batteries and I stripped the screw hole trying to open the battery compartment; it's back to diving with the tables until I can figure out how to repair it.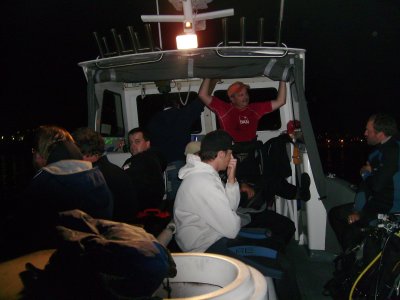 We left the dock a little after 7 PM; it was a stag boat, with eight divers plus the Captain.
We anchored at one of our secret spots that should provide us with a mega supply of bugs this time of year.
I was one of the first ones overboard and under.
I descended down the anchor chain and noticed that the anchor was actually dangling 10 feet above the ocean floor; there was no current, but I was wondering if this would be an impromptu drift dive.
I found out later that the Captain gave the anchor more line after a while.
I had about 20 minutes of bottom time and searched as fast as I could for as many lobsters as I could.
I missed grabbing a pretty large bug that was hiding in a pipe; I continued on …
My light hit a HUGE lobster at 80 feet, just crawling along the bottom!
I angled my light away, approached it and pinned it!
I couldn't get a grip on it with just one hand, so I dropped my light and put the bug in a Jiu Jitsu style choke hold with my other arm, it's tail flailed and hit me in the nuts.
I was able to wrap my other arm around it's torso and hold it close to my chest while I opened my spring loaded lobster liberation bag.
After a brief struggle, the lobster tired and crawled into my bag, accepting the fate that awaited him.
At 1200 psi I started heading back, seeing only shorts after that.
I surfaced fairly close to the boat and was the second one back.
Mirek did a five minute dive before calling it; he said, "I didn't like what I saw, so I headed back to not waste time."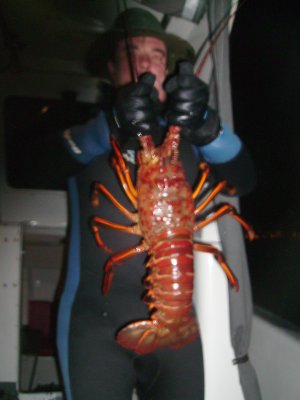 I worked my upper body strength by doing lobster curls.
The rest of the divers trickled in; Dan caught two legal bugs while everyone else got skunked.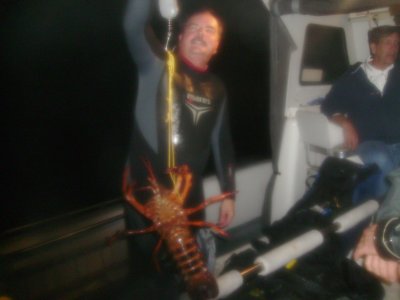 Dan weighed my monster bug in at 5.3 pounds.
It's on to our second spot…