Having the day off and no money to enjoy it, I decided to strike it rich up in the mountains above Azusa – the East Fork of the San Gabriel River.
Jeremy, who works in the same building as me at my real job, wanted the "adventure" and experience to go Gold prospecting.
I was happy to help him out.
We arrived around 7:15 AM and hiked maybe two miles up river to find a good spot.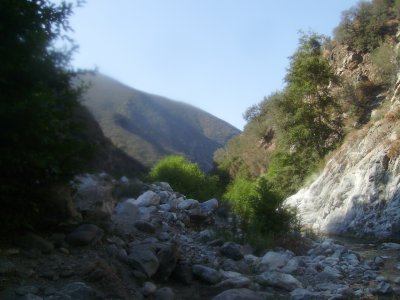 Another perfect day in the mountains!
We came across a huge hole that someone had dug on the river embankment.
I thought, "There must be Gold here, someone kept digging."
Jeremy dug and classified a bucket of gravel in the area surrounding the hole, while I supervised.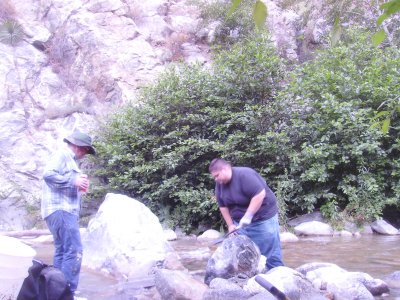 I instructed Jeremy on how to feed a sluice, while I drank my breakfast Chelada.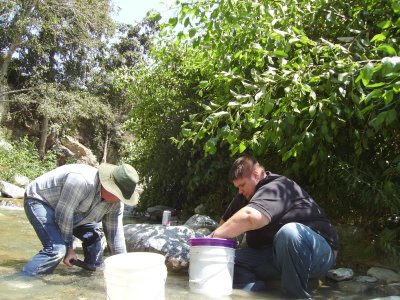 After a while, I dug while Jeremy classified.
Another prospector, who later introduced himself as Ted, walked down to us and asked if we were digging in his hole.
"No," I said, "have at it, but I was considering it."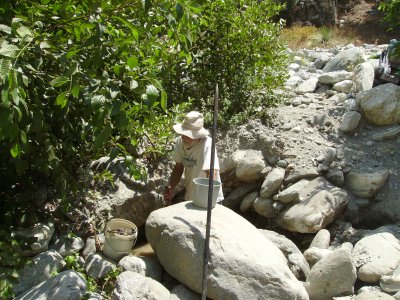 Ted digs in his hole; apparently he is up here every week.
After a few bucket fulls of nothing, Ted was nice enough to point out some places where we may have some luck.
Jeremy said, "If I even see a tiny flake of Gold, that will make my trip worth while."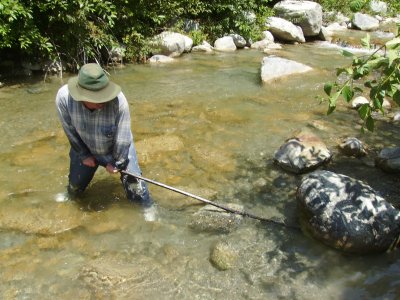 Ted lent us his huge 16 pound crow bar to move some rocks.
We dug a few more bucket fulls of gravel from underneath some of the rocks that we moved.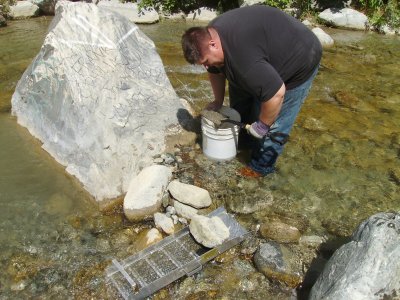 Jeremy gained much experience in feeding a sluice.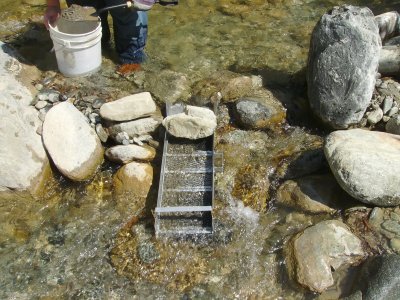 I'm now an expert at setting up my sluice, adjusting for water flow and angle.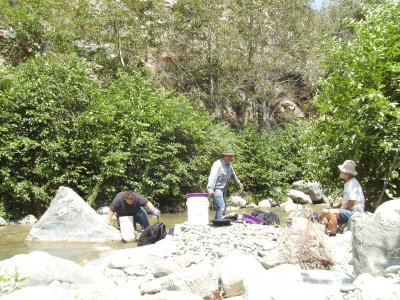 As it turns out, all three of us live in Long Beach and Ted frequents the grocery store where Jeremy's wife works.
I picked Ted's brain about prospecting here; he bragged about once getting $15 worth of Gold up here in one day.
We told Jeremy basically, that prospecting is something that you "really like, really hate, or something that you like to hate, but nothing beats a great day in the mountains."
I panned the last sluice full of concentrate and low and behold – there was Gold!
A few flakes, that is.
A few tiny flakes that I couldn't take a picture of, because I don't have a microscope.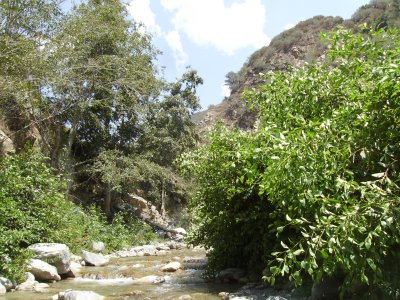 I gave Jeremy all of our Gold, not only as a souvenir, but also so he wouldn't go back home empty handed.
We packed up, said good bye for now to Ted and hiked back to the truck.
Jeremy said that he had fun and would do it again; hopefully next time we'll have better luck.
Comments Off

on Prospecting For Gold – The East Fork of the San Gabriel River