Secret Location: 32 30 30 20 79 61 72 64 73 20 53 6f 75 74 68 20 66 72 6f 6d 20 74 68 65 20 6c 61 73 74 20 64 69 76 65 2c 20 6a 75 73 74 20 74 6f 20 74 68 65 20 6c 69 70 20 6f 66 20 74 68 65 20 73 68 65 6c 66 2e
Night Diving, Solo Diving, Lobster Hunting – So Cal Buddy Diving with the Divevets off of the Island Diver boat
In With: 3000 psi
Out With: 500 psi
Max depth: 110 feet or so
Waves: Pretty Flat
Visibility: 15 feet
Water Temperature: Cold
Total Bottom Time: 20 minutes
Lobsters caught: 0
During the surface interval, we were debating about where we should go on our second dive.
My position was that if I didn't limit, I would blame the person chartering the boat.
The conclusion was that lobsters are here, but we should just move the boat "closer."
Oh crap, that's all that I needed to hear.
Moving the boat "closer" usually means we aren't going to catch shit.
I jump over after an hour and ten minute surface interval.
Oh man, the water was cold!
I submerged down the anchor line and went South.
I trolled and trolled and didn't see any lobsters, not even a short.
I passed some metal boxes at 90 feet and started to go a little too deep, down to 110 feet.
I decided to turn around and head in.
Coming up at 100 feet I pinned and grabbed a HUGE lobster and bagged it.
Running out of time and air I started my ascent after 15 minutes.
During my ascent and safety stop, I must have been pushed by a current North as I surfaced on the other side of the boat, but fairly close to it.
Before heading toward the boat, I remeasured my catch… it was short!
It must have shrunk; I threw it back and started to swim towards the boat.
I was amazed that I didn't get narced on either of these dives tonight, but I did have a slight headache after the second one.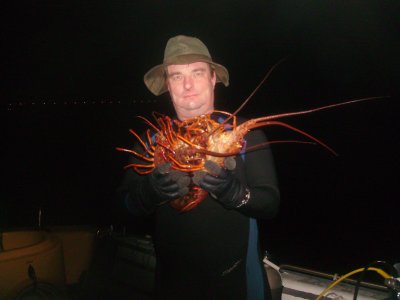 I pose with my catch of the night.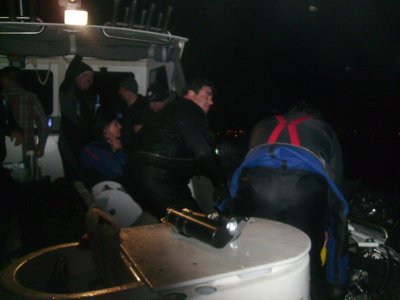 As the rest of the divers came back in, they all reported about the same thing – that there's nothing down there, not even shorts.
The beer flowed freely on the ride back and the party continued in the parking lot.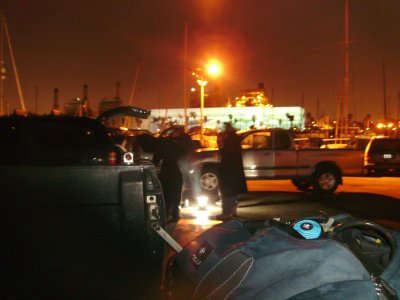 The Captain and the crew were filleting there "catch" on the pier.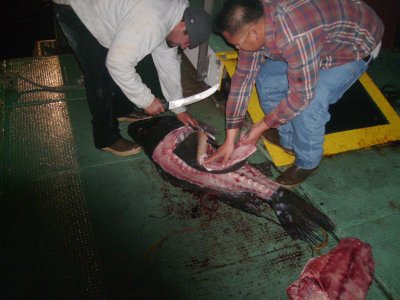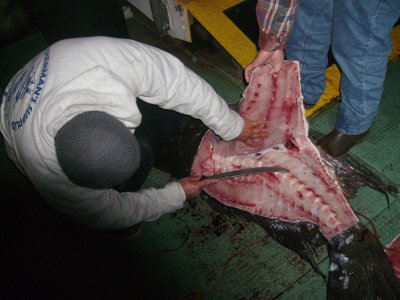 The divers sat around and discussed how grossed out some were just thinking about eating road kill of the sea from the harbor no less.
Who knows, maybe all the shit water in the harbor killed that grupper?
Debriefing lasted a couple of hours.
Bob's wife came by with a birthday cake for Bob – we did not know until then it was his birthday.
Dan handed out cigars and complained about my hat.
Comments Off

on Logged Dive #271 – Lobster Hunting Off The Island Diver