Secret Location:
4f 66 66 20 6f 66 20 4d 61 72 67 61 74 65 2c 20 6e 65 61 72 20 74 68 65 20 44 6f 6d 69 6e 61 74 6f 72 20 77 72 65 63 6b 2c 20 50 61 6c 6f 73 20 56 65 72 64 65 73
Solo Diving, So Call Buddy Diving, night diving off of John's Zodiac
In With: 3000 psi
Out With: 500 psi
Max depth: 40 feet
Waves: 1-2 foot swells
Visibility: 10 feet
Water Temperature: Warm, felt like it was in the 60's.
Total Bottom Time: About 40 minutes
Notable Event: Lost sight of the zodiac, got lost
John, his friend Jim, his Nephew Michael Paul and I met at King Harbor at 10 PM.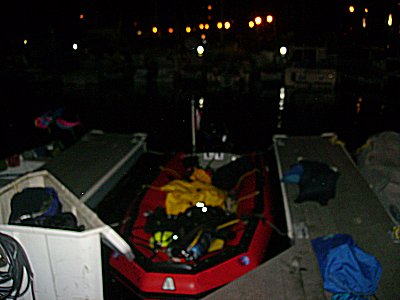 The mighty zodiac!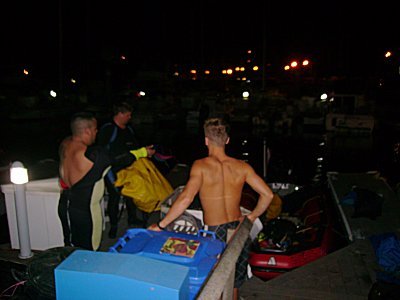 We geared up, loaded John's new Zodiac and sped off to our secret location.
The ride was bumpy and we got tossed in some swells that we couldn't see in the darkness.
We made it to our location with 30 minutes to the start of the season.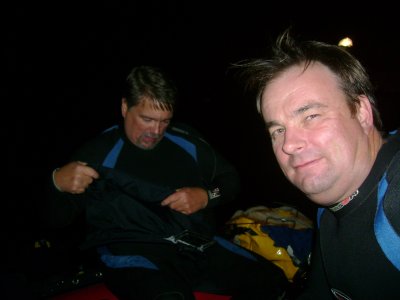 John checks his gear, I'm thinking about lobster.
Jim prays for lobster, Michael Paul thinks strategy.
We BS'ed a while and jumped in the water at 10 minutes to midnight.
Apparently, lobsters are shallow in the beginning of the season, go deep during the storms and go back shallow towards the end.
I went South looking for lobsters and caught a few shorts, throwing them back.
After trolling for 20 minutes, I surfaced with an empty bag to get a bearing in where the boat was.
I couldn't see it!
There were a number of boats anchored off shore that were hunting lobsters as well, but the zodiac sits so low, with just my head above water and two foot swells, I couldn't see it!
I also didn't know which direction the boat was it.
I thought I had one more towards the North, but the scenery made me think I was way South.
A boat slowly came over to where I was, he saw my light.
The captain said, "Are you anyone I know?"
"I certainly hope so!" I yelled.
I continued, "By the way, have you seen an orange Zodiac around here?"
"Orange?"
"Yeah, it rides really low in the water."
He looked around for a while and pointed North and just West. "It looks like that might be a zodiac about 200 yards in that direction," he said.
I took my mask off and stared in the direction.
As the swells rippled, I could make the lights out in the distance.
The captain offered to bring me to the boat.
I had air and no lobster, so I politely declined, but thanked him for the directions.
I submerged and followed the bottom in the direction of what I really hoped was the zodiac.
I surfaced a few times, just to make sure I was heading in the right direction.
I still was unsure if that was our boat.
Submerging again, I came across a pretty good lobster that I pinned and bagged.
Score number one!
Six more to go!
I made it back eventually to the boat, and yes, thankfully the small lights that I saw 200 yards away was indeed the zodiac.
I must have done a 40 minute dive with 25 minutes on the surface looking for the boat.
Everyone else was on board.
We took our surface interval.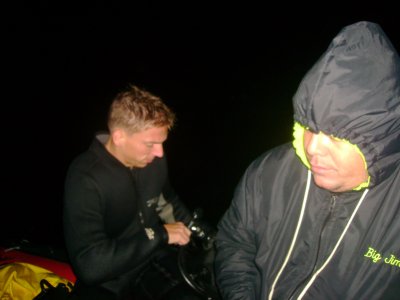 I started to get sea sick; Jim started puking and Michael Paul wasn't feeling too well either – he kept breathing deeply and staring at the horizon line.
Comments Off

on Logged Dive #251 – Opening Morning Of Lobster Season!