Veteran's Park
Redondo Beach, CA
Dove With Nick
In With: 2700 psi
Out With: 1100 psi
Max depth: 79 feet
Waves: 1 foot slow swells, basically flat as a lake
Visibility: 8-10 feet
Water Temperature: About 55 degrees
Total Bottom Time: about 35 minutes
It's time to do some time underwater.
Ed and Nick were supposed to come with me, but neither answered my call at 7 AM.
My girlfriend Jane and I made it down to Redondo Beach about 8:45 AM; Nick was there; I didn't here any word from Ed.
About 15 divers were gearing up in the parking lot; reports were that conditions were "as flat as a lake" and that visibility "had been pretty good in the last few days."
Nick and I geared up and walked down to the water's edge.
Nick just walked in; so my debate whether to do a "figure four" on his shoulder or just walk in and put my fins on was already decided.
I defogged my mask with spit and ocean water and walked in to waist deep water where I fumbled with my fins to put them on.
The latches on my fins get stuck and it makes them difficult to just put them on.
We swam out and submerged in 20 feet of water and went West.
The agreed upon dive plan was to go no deeper than 80 feet and head back up the shelf when the first person reached 1500 psi.
At 30 feet we felt the cold lick of the thermalcline, then there it was…
…the darkness over the shelf that tells every diver, "Hey, this darkness means that you're about to go over the shelf."
We slowly proceeded down the shelf, the cold shooting through my old wetsuit; too bad I couldn't pee.
We slowly went to 79 feet, Nick called a "hold here" – my gauge said we had a few more feet to go.
We went North slowly, looking at the small Halibut, occasional starfish and various trash that litter the almost barren Redondo shelf landscape.
We turned around and started heading South.
We came across a fish – Nick thought it was a Moray Eel – that had buried itself up to its neck in sand.
I had never seen that before and thought that it may be a grunion laying eggs?
There's supposed to be an artificial reef that local divers have been building one cinder block at a time, but we couldn't find it.
We went up the shelf and I dead reckoned where the hell to go to wind up at the stairs.
We stayed at 30 feet or so to out-gas and do our safety stop.
I started digging in the sand to see what I could find – a muscle shell.
We continued East, back to shore.
We surfaced at 15 feet, swam a little and took our fins off to walk ashore.
There's a really sandy ledge before you get to shore that most divers trip on.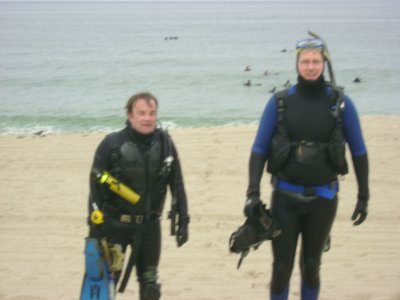 We cracked a few beers and packed in the parking lot.
I asked Nick if he was interested in deep diving the Palawan next weekend.
He said that without the proper training he doesn't feel comfortable going that deep and he's afraid of getting narced.
I asked, "You've never been narced?"
"No."
"I was narced on our first night dive when I started going the wrong way."
"Thanks for telling me that now; I thought you were just confused," Nick said.
Ed called me and said that he got a little too preoccupied yesterday taking care of some bar business, but he would meet us down at Quality Seafood.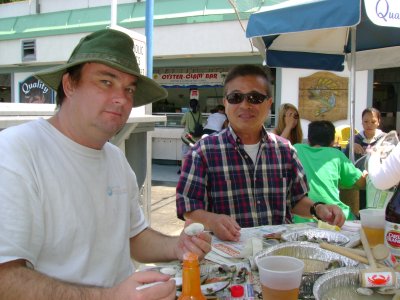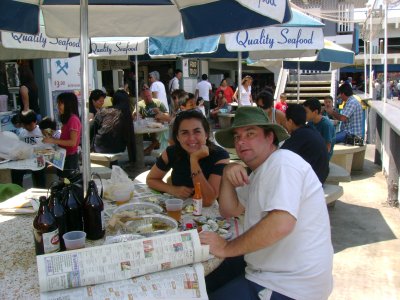 Beer, crabs, muscles and sea snails later, we left via Palos Verdes.
We stopped by Long Point to checkout the scene.
Dive Bum Don and Drysuit Greg were there enjoying the afternoon with a few beers.
There's suppose to be a barbecue party here next weekend; I plan to be here.
Comments Off

on Logged Dive #245 – Veteran's Park, Redondo Beach