Drift Dive hopefully to the Point Vicente Wall off the Island Diver
Palos Verdes Peninsula, CA
In With: 2800 psi
Out With: 700 psi
Max depth: About 60 feet
Waves: choppy, extreme on a rare occasion
Visibility: 10-15 feet
Water Temperature: 55 degrees
Total Bottom Time: 50 minutes
Dove with Juan Twenty, Kathy K and Laila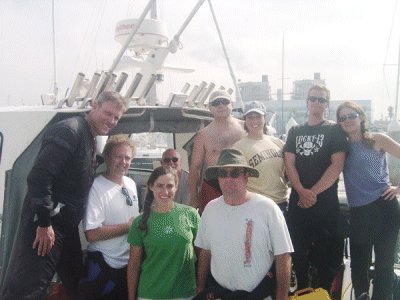 Photo By Juan Twenty
Yet another boat chartered by "Juan Twenty" from the Divevets.
The boat left the harbor around 9:20 AM.
Captain Dick stopped shortly outside the breakwater to check the engine as it indicated it was over heating.
The water level was fine and the engine was not hot.
He turned around to go back to the dock, but quickly turned out again.
The plans then changed to dive at the Avalon wreck which was a shorter trip.
Soon, the plan was back to diving the wall.
After what seemed like an hour cruise along the side of Palos Verdes, we arrived at the wall.
We broke up in to two groups of four.
Our group was Juan Twenty, Kathy K, Laila and myself.
Each group had a surface marker in tow.
We submerged to a depth of about 55 feet or so.
There didn't seem to be a current.
Juan and I just sort of followed Kathy K and Laila, who sometimes gestured back at Juan that they didn't seem to know where they were going.
I was getting cold and couldn't even pee.
Lots of interesting reef structures, very few dead spots.
There were a few cinder blocks scattering the bottom.
The depth varied between about 35 and 60 feet, but there was no current here and we couldn't find the "Point Vicente Wall" which we were suppose to have drifted by; something that Captain Dick later said was very rare.
We slowly started to surface after 45 minutes or so; I was holding the surface marker line and reeling it in.
I wasn't diving with a computer, so I just followed Juan's profile.
When we surfaced we came up far from the wall ("The Wall" is marked by a small rocky island off of the Light House), but not too far from where we submerged.
The other group's surface marker was several dozen yards away.
Our group swam over to the other marker.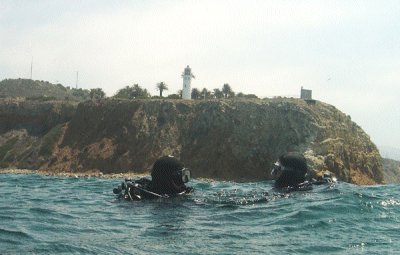 Photo By Juan Twenty
The Island Diver maneuvered to pick us up.
I crawled on board with my fins still on in the slightly rough chop.
Comments Off

on Logged Dive #242 – Drift Dive (Hopefully) To The Pt Vicente Wall