Mother's Day
Long Point, Rancho Palos Verdes, CA
(aka The Old Marineland)
Dove with Ron T.
In With: 2700 psi
Out With: 600 psi
Max depth: 40 feet
Waves: 2-3 foot swells
Visibility: 10-15 feet in areas
Water Temperature: Cool, sort of cold
Total Bottom Time: 45 minutes
It's Mother's Day – my Dad liked the last Barbecue party here so much, he convinced my mother to join us down at Long Point.
Instructor Ed and my brother Paul came down also.
I had to do some dashing around a bit, so I ended up being 30 minutes late to meet Ron.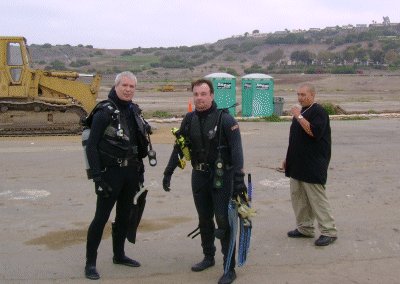 We geared up and started the walk down around 9:00 AM.
Ed had his video camera and started on our beer early.
I went out first, Ron followed.
It was sort of high tide.
Outside of the surf zone, Ron rested.
He complained that his suit was too tight to breathe in; he just needed to rest.
He had me turn his air on; I must be a shitty DM if I didn't catch that, but he's a DM, too!
We swam to the rocks and submerged.
The vis seemed better towards shore.
We headed for 120 reef.
I followed Ron for the first half of the dive.
We took it slow, viewing all the life in the crevices.
Ron pointed out a nice scallop between two rocks.
Strawberry anemones were around; purple… things too.
At a point we sort of looked at each other and gestured "what now?"
We started slowly making our way back.
We surfaced just off the cove and decided to check out the newly formed kelp just to the West.
We submerged and visibility improved over by the kelp – 15 feet and very clear.
We came across a formation labeled "Palos Verdes High School artificial reef project. Do not touch."
I have no idea what it was made from and was so shapeless I can't describe it.
Ron came across a lost fin and handed it to me.
We surfaced and did a short swim in; I followed Ron.
We had a barbecue where my mother, father and brother joined us for Mother's Day; my mother wanted to "check out the diving scene."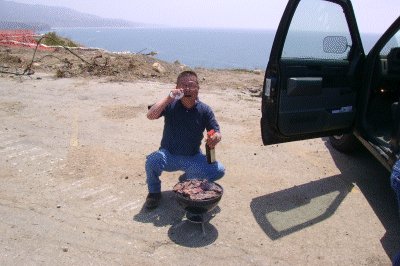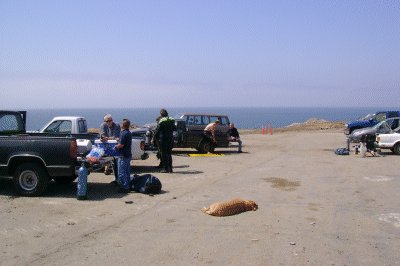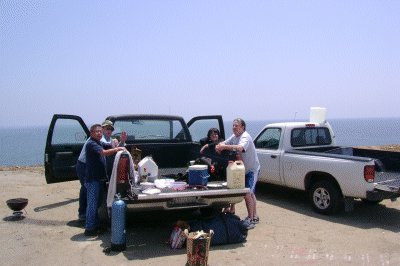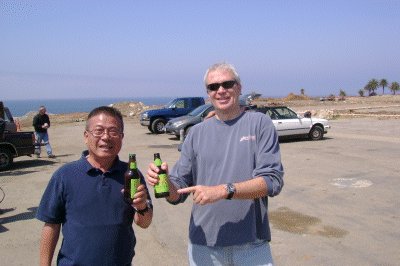 We had a great time drinking, talking, and barbecuing Korean ribs and eating Kim Chi and rice.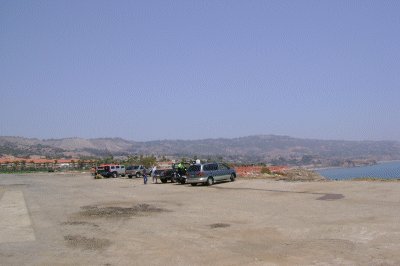 Another great day at the fastly disappearing Old Marineland.
Comments Off

on Logged Dive #229 – Mother's Day Dive And Barbecue Party!