Bird Rock, Catalina Island
Diving Off The Mr. C with the Divevets
Solo diving
In With: 2900 psi
Out With: 700psi
Max depth: 80 feet
Waves: Insignificant, some boat wake
Visibility: 25 feet
Water Temperature: Probably mid-50's. The air temperature was 38 degrees Fahrenheit when the boat left the dock.
Total Bottom Time: 40 minutes
I've been sick for the last three weeks with a cold.
I was very congested and took about three or four Sudafeds before getting on the boat.
The stupid California Fascist government makes you sign a book when you buy Sudafed now; "Harry Potter" purchased my stash.
The boat left a few minutes after 7 AM.
The Divevets that I recognized – Bob, Shanon. Mirek (first time meeting him in person) and Joe (aka "Cabin Boy").
Others on the boat claimed to be Divevets.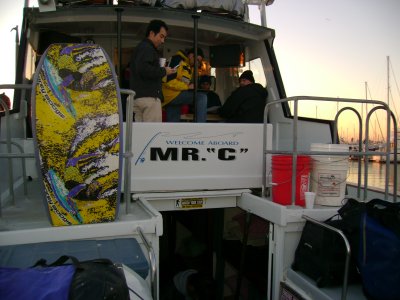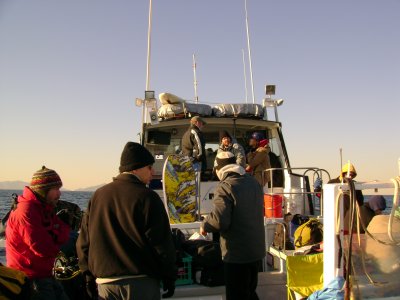 Apparently the Mr. C was leaking slightly and one of the bilge pumps didn't work, so the Captain had to slow the boat down.
It took two and a half hours to get to our first destination.
So Bird Rock…
I was the first one overboard; I had to call the Divemaster over and let him know that "number seven is going over."
I swam to the anchor line and planned a very painful submersion.
The Sudafed did the trick; in no time I was down with little discomfort.
I went away from the shoreline (I forget the compass direction), through a nice kelp bed and down a steep cliff of rocks.
I saw many lobsters hiding in the rocks at 80 feet.
I saw two antennas sticking out between two rocks; I got closer and looked down.
The bug that I was looking at was about the size of a small dog!
I came across and collected some nice, shiny abalone shells.
I started back to the boat.
I heard the engine, but couldn't quite spot it.
I had reverse blockage coming back up and got very dizzy.
When I broke surface, I was about 20 yards away from the boat.
I submerged again for the short swim to the back of the boat.
Taking my fins off, my left boot ripped.
Comments Off

on Logged Dive #218 – Bird Rock, Catalina Island