Wreck Diving The Ruby E
Off the Lois Anne Boat
San Diego, CA
Dove with fellow DM student Ron T; Instructor John followed.
In With: 3700 psi (Overfill!)
Out With: 2000 psi
Max depth: 70 feet
Waves: Insignificant
Visibility: 20 feet
Water Temperature: 51 degrees Fahrenheit
Total Bottom Time: 20 minutes
The Ruby E is a sunken Coast Guard Cutter.
Vis on this dive was a little better than on the Yukon; but, maybe it just looked that way because we could see practically the whole ship – the Yukon is just too big.
I again was the first one off the boat; we followed the mooring line down to the ship.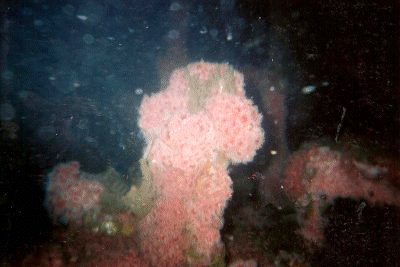 There was some kind of purple coral of the wreck – later identified as Strawberry Anemones.
Ron and I swam through the wheelhouse…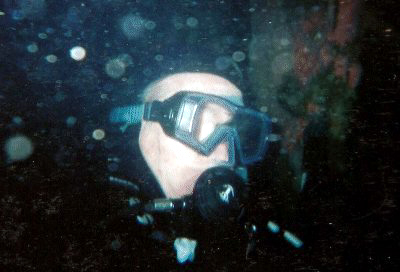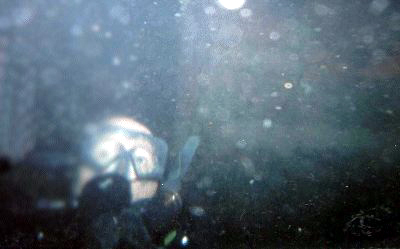 There are sharp points along the deck where the railing used to be.
It was cold; I was getting an "ice cream" headache.
John went in to the hull.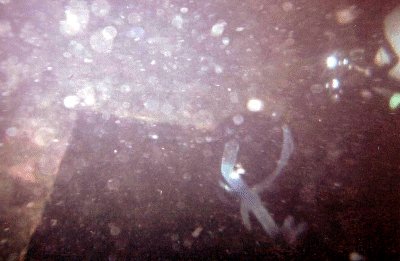 Ron motioned to me that we should go up.
Ron was diving very conservatively; he may have been narced, but I didn't think so.
However a 20-minute dive at 70 feet after an hour surface interval seems pretty short to me.
We did our safety stop and surfaced with no problem.
A lot of the other divers were doing decompression diving.
John said, "they put a lot of faith on theory."
A lot of the other divers were knuckleheads.
I think a lot of it was the typical new diver syndrome – new equipment and big egos.
As part of our Dive Master class, we talked extensively to the hot Dive Master, Anita.
She said she gets frustrated with the divers who don't listen or don't respond.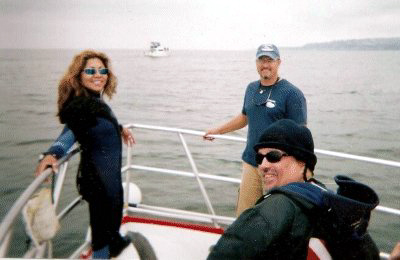 The DM Anita, The Captain and John in the foreground.
I said to Anita, "So if I stop breathing, you would give me mouth to mouth resuscitation?"
The Captain interrupted, "I know CPR, too."
There was a fishing boat that kept following us; Anita had to "shoe them away."
After a short and beerless trip back to the harbor, John and I packed up and went to lunch with his nephew Michael Paul and his friend who are training to become Navy Seals.
With gas prices over $3 a gallon, there were not many people on the road.
At 4:30 AM, we made it to San Diego in an hour and a half – the same amount of time it took us to come back at 3 PM.
Comments Off

on Logged Dive #178 – Diving The Ruby E Wreck