Arch Point
Santa Barbara Island, CA off of the Sundiver Boat
Dove with Nick
In With: 3000 psi
Out With: 900 psi
Max depth: 50 feet
Waves: 3-4 towards shore, strong current and surges
Visibility: 30 feet
Water Temperature: Cool to cold
Total Bottom Time: 45 minutes
The Captain said there's lobsters in the rocks.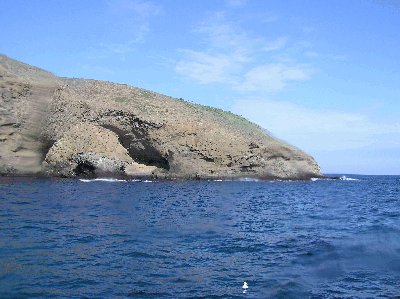 I traded my camera for my lobster bag, but realized that once I jumped over that I forgot my lobster gauge.
Realizing that I haven't even seen a lobster on this trip, I didn't sweat it.
I almost got swept into a crevice by a strong surge.
Nick and I followed toward the arch; I reached as deep as 50 feet.
It's pretty barren here, sea urchins and small fish – well, I saw a big Sheephead here.
Coming back to the boat we encountered a strong current.
We swam down over a ledge where the current was weaker.
Around the boat, Nick aggressively dug out a lobster that was wedged in the rocks, ripping off both of its antennas.
After measuring it, it was indeed short, so we set it free.
We were supposed to do a fourth dive; I'm glad we didn't.
I had completely lost track of where I am on the dive tables.
Boat Review Of The Sundiver:
The Sundiver is an OK boat, but there's three things that I didn't like:
1. They strap your gear bag to a ledge that dangles over the side.
2. They had double bunks. SO if you're alone, you may be sleeping with some dude.
3. They charge for everything! $4 air fills, $1 coffees, etc.
4. It is note worthy to realize that you can stumble onto the deck and be a drunken dick the night before a dive and, probably won't be thrown overboard.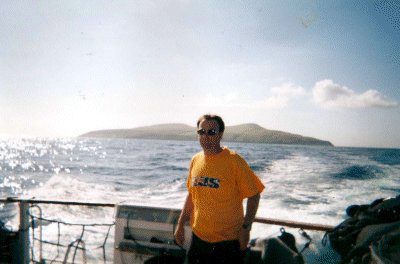 After a five hour boat ride back, we all safely arrived back at port.
A great weekend of diving!
Comments Off

on Logged Dive #90 Arch Point Santa Barbara Island, CA