Once again, I was called upon to use my advanced Dive Mastering abilities to make sure all the participants at the Gold Star Dive would be safe.
I also couldn't turn down the pay – a T-shirt, free food, free water and the ability to write off transportation as a charitable contribution.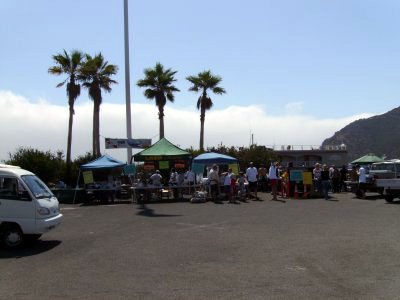 Registration begins along with food sales.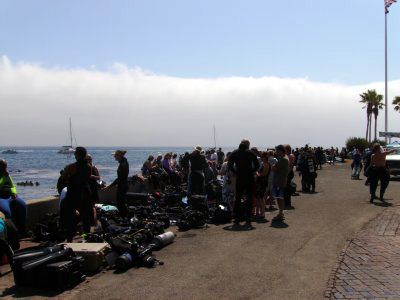 Divers prepare to enter.
As I mentioned in previous posts, The Gold Star Dive is a charity event that benefits the Catalina Hyperbaric Chamber and the LA County Sheriffs' S.T.A.R. program.
Participants paid $55 to register.
At a particular time, a canon fires and SCUBA and free divers then try and find one gold star that corresponds to a later prize; a raffle is also held.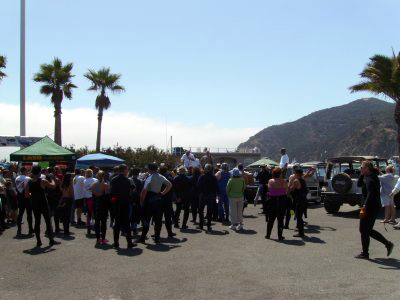 The participants are briefed on the event and safety.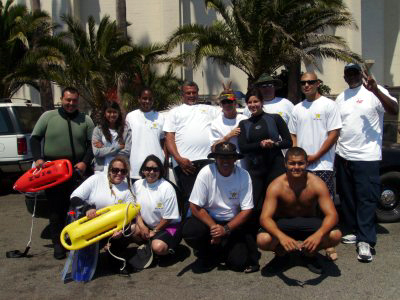 The 2008 Gold Star Safety Crew; I am the guy in the back row wearing the cool green hat.
I was going to be on the rocks with a lifeguard can and snorkeling equipment.
We had people working the stairs, in the water and on kayaks; others reconciled C-cards.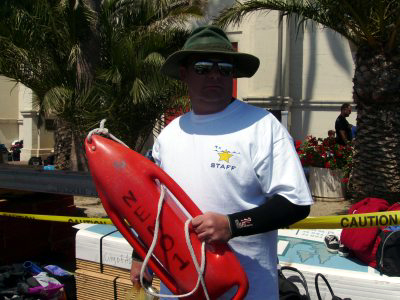 Do I look macho holding a lifeguard can, or what?
The event started with the firing of the canon; a few free divers plunged down and came up with stars they had spotted previously.
So there I sat, on a rock, fins on, can in hand scanning the water for trouble.
I know that many participants are new or only dive on occasion.
A signal for help is an overhand wave of the arm; a surface "OK" sign is placing your hand on top of your head.
How many times did I see a wave, only to hear, "Hi Mom!"
I'm looking, asking divers who seem tired if they're alright.
Someone yelled, "That diver needs help!"
I looked over, and I saw a big clump of kelp with a waving hand sticking out.
I jumped in the water and swam over; Steve, who was working at the stairs, pointed the diver out to Jake and another safety worker.
I got there first and handed her the can, which she promptly grabbed.
I asked, "Are you just caught in the kelp?"
"Yes, I was about to panic."
"Don't do that, you'll be fine."
I started untangling and breaking the kelp off her gear.
Jake and the other guy swam over and helped with the process.
She was diving with a group of three; apparently the other two just kept going when she ran in to trouble.
Once free, I tank towed her back to the stairs to an awaiting Steve.
The diver thanked us and apologized for putting us through the trouble, but we told her that she did the right thing and that's what we're here for.
I was getting hot sitting on the rock, so I should have thanked her for the swim.
The kayakers towed some tired divers.
Once all the divers were accounted for, Steve and Laurie told us we could leave our posts.
Another rewarding day as a highly paid event safety worker!
I took the early boat back.