July 10, 2012*
Last night, Idit and I went out on the town in Himarë.
Parking sucked – we passed by this guy renting spots in a private lot for 200 LEK.
Idit told him that was too much; the guy said, "You'll be back."
We drove a half block to a parking hell dead end; we backed up and they guy said, "I told you so!"
The parking lot attendant wanted to know where I was from, Idit told him that I am American.
The guy gave me thumbs up and said, "Bravo America! Bravo America!"
We walked around and I had a few beers before Idit dropped me back at my Bungalow in Porto Palermo.
Idit was going to fill the SCUBA tanks at a campground in Himarë – the place where we dropped the small compressor off – and meet me around 10 AM for the trip to Saranda.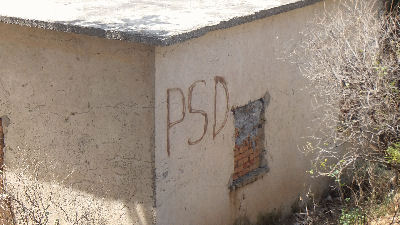 I am welcomed all over the world!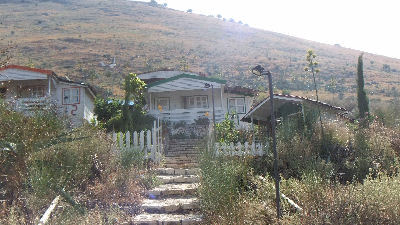 #1 – My Bungalow.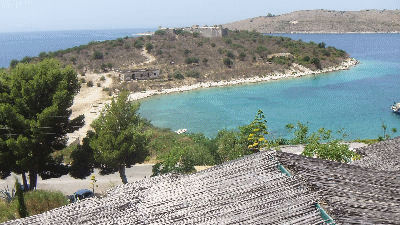 View of Porto Palermo from above my roof.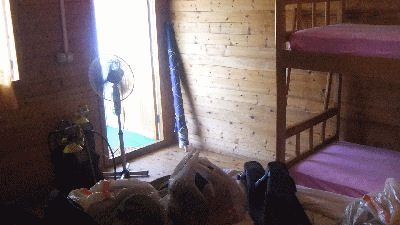 Inside my bungalow.
Idit didn't show up until almost 2 PM.
"That fucking compressor takes over an hour to fill each tank," he said.
I responded, "Well, I was hoping that was the issue; I'm glad you're still alive."
The previous night, I had unpacked my diving gear to check and see if everything made it, and in tact.
I found a pair of tennis shoes, my size, but they weren't mine.
I asked Idit if they were his.
"No, why would I put my shoes in your luggage?" he responded.
He continued, "They must be yours."
All my luggage made it, but I had gained a pair of tennis shoes.
Thinking that the shoes might be made out of some kind of dangerous, illegal and poisonous street drug, like marijuana, I threw them away.
I also had another problem.
The 220 to 110 volt transformer that I had purchased, burned while charging my camera batteries.
I am retarded – it says right on the thing, "NOT FOR CONTINUOUS USE!"
So I have an entire trip to document, and have three charged batteries to complete the mission.
"We'll see if we can find something in Saranda," Idit assured me.
We loaded all the luggage and dive gear into his car and made the two hour drive to Saranda.
We stopped by the Irish Youth Hostel, where Idit would be staying.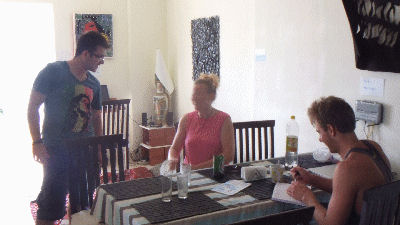 I explained my situation with the power to some people there.
Ireland is closer to the USA than Albania, so I might have a shot at a resolution.
The lady running the Hostel handed me an adapter, that didn't reduce the power, just made an American plug fit into a European outlet.
"If you need it, it's yours, no charge," she said.
"Well, it doesn't reduce the voltage," I said.
Idit told me, "If you're just plugging in your computer and battery charger, you should be fine; trust me, I bought my computer from the United States."
Sure enough, all my transformers listed the acceptable power range from between 100 to 240 volts.
They saved my trip!
Bravo Albania!
Bravo Ireland!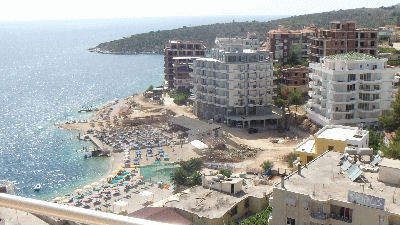 The view of Saranda from the Irish Youth Hostel.
I checked in to the Hotel Maestral.
We were to rest for a few hours and then dive the Fisherboat and Probitas wrecks, located just off the beach.
Diving to follow!
*Due to time constraints and lack of reliable internet access outside of Tirana, posting this article has been delayed.
Comments Off

on Road Trip From Himarë To Saranda