Veteran's Park, Redondo Beach, CA
Dove With Angelshark
In With: 2900 psi
Out With: 700 psi
Max depth: 85 feet
Waves: Mild swells
Visibility: 20 feet
Water Temperature: Comfortably cool, but chilly at depth
Total Bottom Time: 45 minutes
This was some sort of unofficial bay "clean up dive" where divers bring ashore a bag of trash and then party in the park to celebrate.
I took Angelshark up on the offer to buddy up with her; we met in the crowded Vet's Park parking lot a little after 7:40 AM.
She and other chick divers admired the Duster; it's hard not to.
This was Angelshark's first ocean dive in a dry suit – that sort of made me nervous, as I have no experience with them.
She briefly explained how they work; it's just like operating a BC jacket, except the suit is one big air jacket.
Angelshark has been diving for three years and has over 600 logged dives!
"I go diving four times a week, sometimes two or three times a day," she said.
We walked out, put our fins on and swam about 50 yards out before submerging.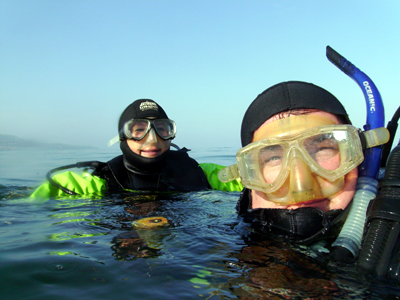 Me and Angelshark prepare to submerge.
We descended in 25 feet of water; I followed her over the shelf.
I wasn't sure where we were headed, just down to pick up trash.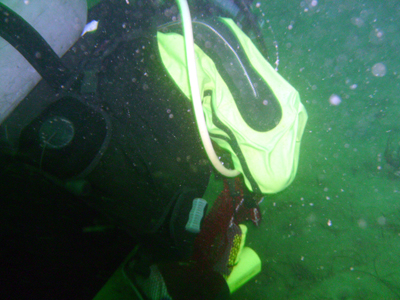 I kept accidentally bumping into her, not knowing where exactly we were going.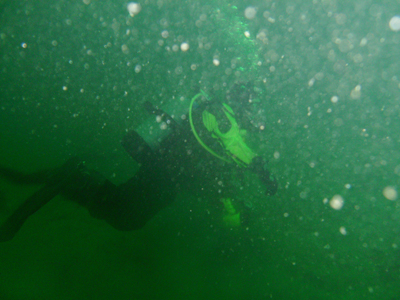 We picked up trash at 85 feet, I was getting a little narced.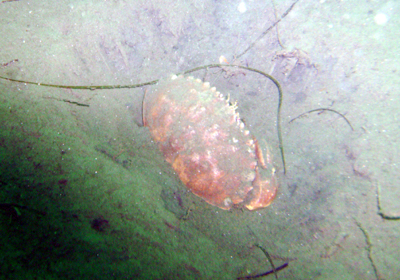 A crab hides in a fox hole.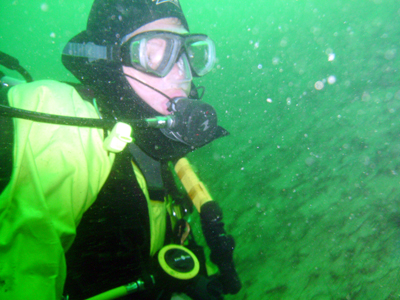 We went up the shelf; this is what Angelshark looks like underwater.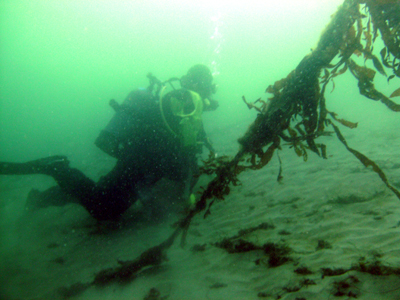 There's still plenty of trash above the shelf.
I followed her back down the shelf to 80 feet.
We both had 80 cubic feet tanks, but she has smaller lungs.
I pointed out that I had 1200 psi and we were at 80 feet; I started heading in and she followed.
Up the shelf and after a nice slow swim and safety stop in, we were in shallow water.
Angelshark took a fin off before she could touch bottom.
"I take one fin off first so I can just worry about the other one when I can feel the bottom," she said.
I tried that approach and did not like the lack of control while being in the surf zone.
I again, as always, tripped over the one foot sand step.
Angelshark helped me up and on my next step tripped over my trash bag.
A non-macho exit in front of a hot chick is hard to live down.
Angelshark accidentally caught an octopus, which crawled out of a piece of trash; she had to argue with a Korean woman about why she was "throwing food" back into the ocean.
"It was so small, why would she want to eat it?" Angelshark asked.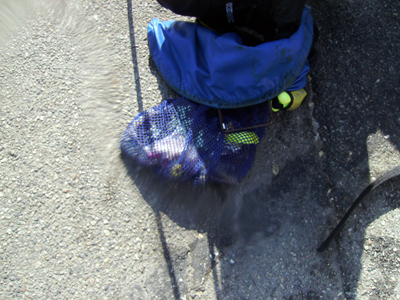 My bag of trash; Vet's Park is a lot cleaner now than in previous years.
Wrinkles from the Old Marineland site greeted me; I had brain fade because I didn't place the face outside of that spot.
I apologized and said that I must be getting Alzheimer's.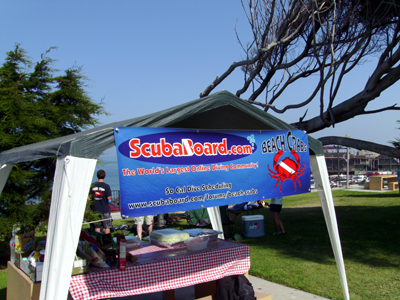 Scubaboard.com was having some kind of "Beach Crab" event.
Wrinkles and I walked over and checked the scene out.
Wrinkles is quite popular in the local diving community; she has a dive named after her – the "Wrinkles Dive" every second Saturday of the month, I think.
"The 'Wrinkles Dive' used to be whenever I wanted to go diving, I would just post and people would show up.
"Now, it's commercialized to the point I can't even make my own dives," Wrinkles said.
Another great day of diving with a great buddy!